Introducing Bloodline – A professionally designed 808 Kontakt library.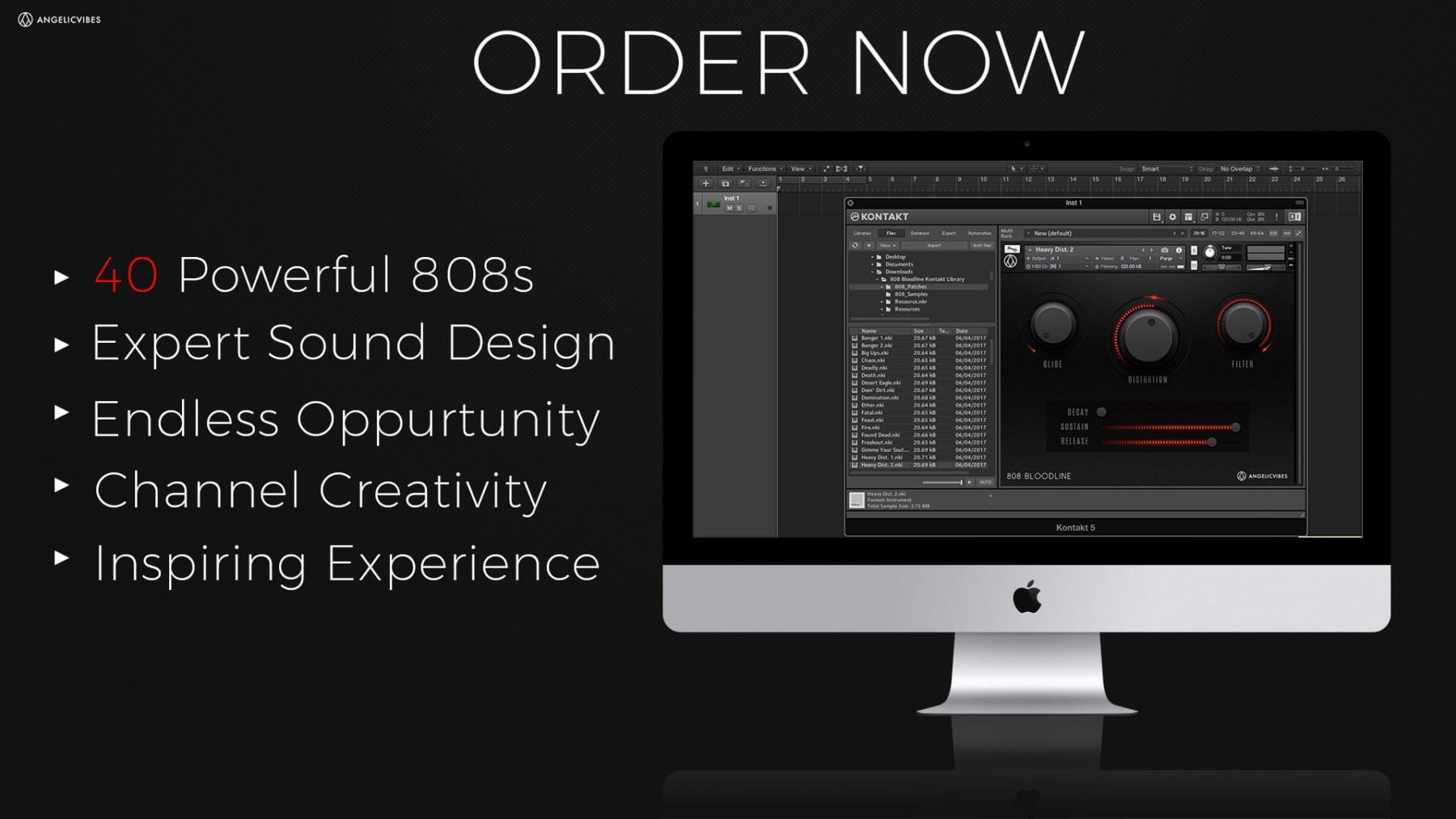 Inside this library are all kinds of 808s ranging from distorted and overly saturated monsters to modern style hard hitting punchy sub kicks all of which are suitable for any kind of genre including; Trap, Hip Hop, Deep House, Club, Drum & Bass, Techno and much more. Created to give producers hard hitting 808s with a sleek design, this will be the go-to 808 Kontakt Library for years. Bloodline comes with a fully functional user-interface designed to allow the user to shape the sounds however they like. Add effects or change the length of the 808 using the LED-lit knobs and sliders. Ultimately, Bloodline gets rid of the frustration by giving you a beautiful collection of ready-to-go 808 instruments. If you want 808 instruments that bang like no other, Bloodline is your only choice.
Simple & Sleek Design
Fully Functiontional User-Interface
Effects & Envelope Modulations
40 Earth Shattering 808 Instruments
All Wav Samples Included
Professionally Designed
Documentation Included
Highly Effective Glide Knob
Powerful Distortion Knob
Subtle Lowpass Filter Knob
Decay, Release & Sustain
Watch This Video Below To Get A Feel of What's Inside!
Premium File Contents
FILES
./808_Patches:
Banger 1.nki
Banger 2.nki
Big Ups.nki
Chaos.nki
Deadly.nki
Death.nki
Desert Eagle.nki
Doin' Dirt.nki
Domination.nki
Ether.nki
Fatal.nki
Feast.nki
Fire.nki
Found Dead.nki
Freakout.nki
Gimme Your Soul.nki
Heavy Dist. 1.nki
Heavy Dist. 2.nki
Hitlist.nki
Hypnosis.nki
Kill'em All.nki
Make Believe.nki
Monstrosity.nki
Monstrous.nki
Panic.nki
Paradigm.nki
Phenom.nki
Power.nki
Red Handed.nki
Strange Noises.nki
Takeover.nki
Terrorized.nki
The Package.nki
To Much.nki
Torture.nki
Unknown Forces.nki
Virus.nki
Witches Burn.nki
Zap Tap.nki
Zombie.nki
./808_Samples:
Banger 1 Samples
Banger 2 Samples
Big Ups Samples
Chaos Samples
Deadly Samples
Death Samples
Desert Eagle Samples
Doin' Dirt Samples
Domination Samples
Ether Samples
Fatal Samples
Feast Samples
Fire Samples
Found Dead Samples
Freakout Samples
Gimme Your Soul Samples
Heavy Dist. 1 Samples
Heavy Dist. 2 Samples
Hitlist Samples
Hypnosis Samples
Kill'em All Samples
Make Believe Samples
Monstrosity Samples
Monstrous Samples
Panic Samples
Paradigm Samples
Phenom Samples
Power Samples
Red Handed Samples
Strange Noises Samples
Takeover Samples
Terrorized Samples
The Package Samples
To Much Samples
Torture Samples
Unknown Forces Samples
Virus Samples
Witches Burn Samples
Zap Tap Samples
Zombie Samples
./808_Samples/Banger 1 Samples:
808 Banger - (G#).wav
./808_Samples/Banger 2 Samples:
808 Banger 2 - (D#).wav
./808_Samples/Big Ups Samples:
808 2-[2].wav
./808_Samples/Chaos Samples:
808 Chaos - (F).wav
./808_Samples/Deadly Samples:
808 Deadly - (E).wav
./808_Samples/Death Samples:
808 Death - (D).wav
./808_Samples/Desert Eagle Samples:
808 Desert Eagle - (G#).wav
./808_Samples/Doin' Dirt Samples:
808 Doin' Dirt - (E).wav
./808_Samples/Domination Samples:
808 Domination - (A).wav
./808_Samples/Ether Samples:
808 Ether - (E).wav
./808_Samples/Fatal Samples:
808 Fatal - (F#).wav
./808_Samples/Feast Samples:
808 Feast - (F).wav
./808_Samples/Fire Samples:
808 Fire - (C#).wav
./808_Samples/Found Dead Samples:
808 Found Dead - (F#).wav
./808_Samples/Freakout Samples:
808 Freakout - (G).wav
./808_Samples/Gimme Your Soul Samples:
808 Gimme Your Soul - (F).wav
./808_Samples/Heavy Dist. 1 Samples:
808 Virus - (D#).wav
./808_Samples/Heavy Dist. 2 Samples:
808 Feast - (F).wav
./808_Samples/Hitlist Samples:
808 Hitlist - (E).wav
./808_Samples/Hypnosis Samples:
808 Hypnosis - (F#).wav
./808_Samples/Kill'em All Samples:
808 Kill 'em All - (G).wav
./808_Samples/Make Believe Samples:
808 Make Believe - (E).wav
./808_Samples/Monstrosity Samples:
808 Monstrosity - (F#).wav
./808_Samples/Monstrous Samples:
808 Monstrous - (F#).wav
./808_Samples/Panic Samples:
808 Panic - (D#).wav
./808_Samples/Paradigm Samples:
808 Paradigm - (B)-[1].wav
./808_Samples/Phenom Samples:
Phenom d.wav
./808_Samples/Power Samples:
808 Power - (A#).wav
./808_Samples/Red Handed Samples:
808 Red Handed - (F).wav
./808_Samples/Strange Noises Samples:
808 Strange Noises - (D).wav
./808_Samples/Takeover Samples:
808 Takeover - (F).wav
./808_Samples/Terrorized Samples:
808 Terrorized - (E).wav
./808_Samples/The Package Samples:
808 22.wav
./808_Samples/To Much Samples:
808 1-[2].wav
./808_Samples/Torture Samples:
808 Torture - (F).wav
./808_Samples/Unknown Forces Samples:
808 Unknown Forces - (D).wav
./808_Samples/Virus Samples:
808 Virus - (D#).wav
./808_Samples/Witches Burn Samples:
808 Witches Burn - (D).wav
./808_Samples/Zap Tap Samples:
808 4-[1].wav
./808_Samples/Zombie Samples:
808 Zombie - (D).wav
./Resources:
data
ir_samples
pictures
scripts
./Resources/data:
./Resources/ir_samples:
./Resources/pictures:
35.png
BigKnob.png
BigKnob.txt
SMALLKNOB.png
SMALLKNOB.txt
Slider.png
Slider.txt
gui.png
./Resources/scripts: