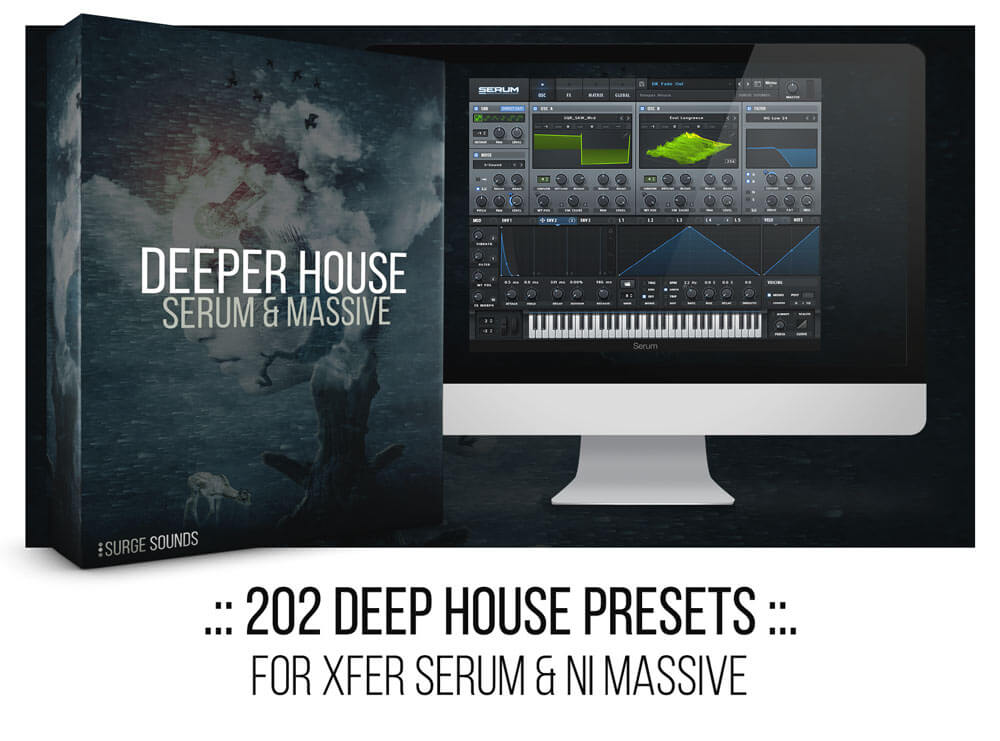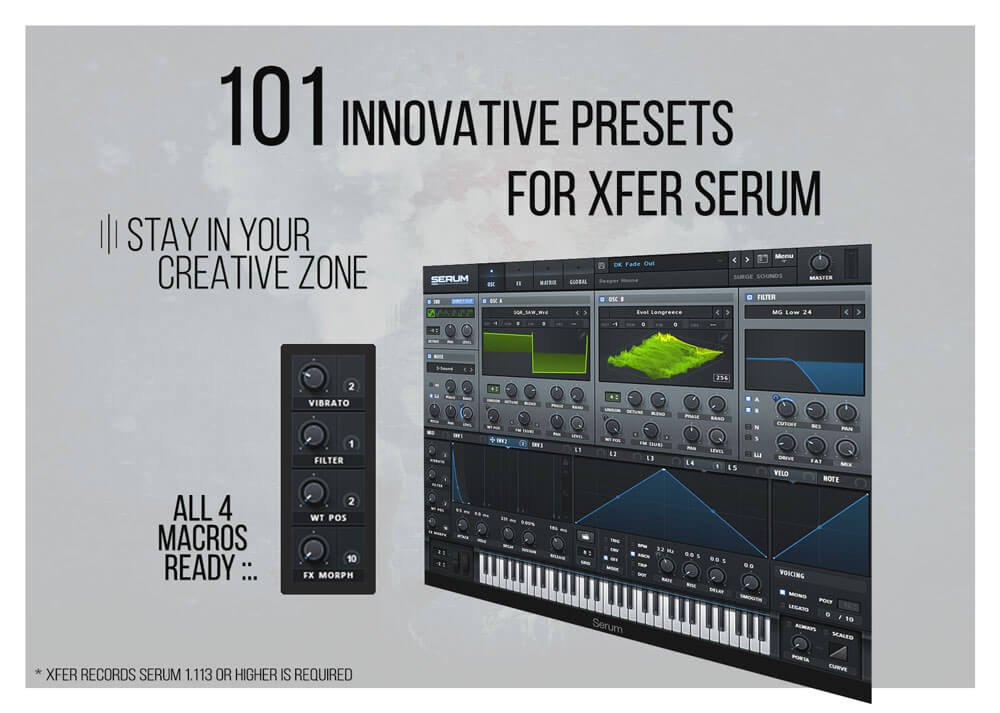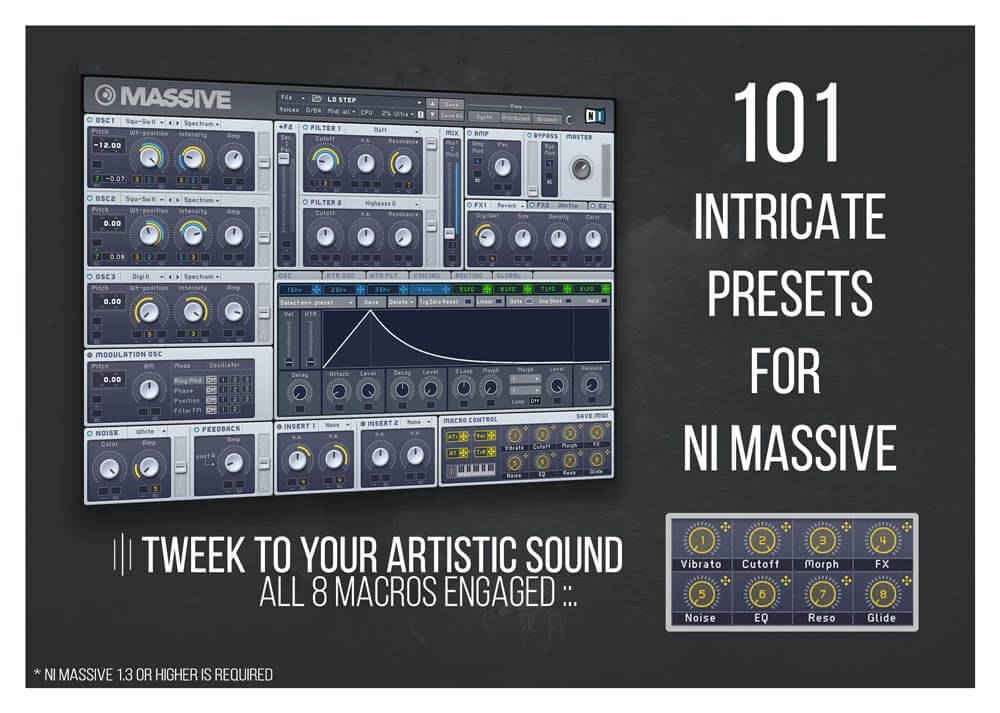 Check out this video to hear the presets in action.
'Deeper House' is a deeper level of soulful and retro-future sounds for Xfer Serum & NI Massive.
The team behind Surge Sounds presents a brand new pack full of atmospheric and intricate presets that are guaranteed to enhance your imagination.
Inside this pack you will find 202 Deep House sounds designed with maximum care and crafted to boost your productions to the next level.
The concept behind this soundset was inspired by Deep House innovators and was designed to compete with future trends.
It contains 101 extraordinary presets for Xfer Serum and 101 cutting-edge presets for NI Massive that will have your listeners feeling amazing.
On every preset there are 4 macros for Xfer Serum and 8 Macros for NI Massive at your finger tips giving you creative control and innovation.
If you are looking to take your sound design to the next level with this deeply melodic and timeless collection, this pack is perfect for you!
Product Details:
101 Xfer Serum Presets
18 Leads
16 Basses
16 Keys
15 Synths
15 Pads
14 Plucks
7 Donks
4 Macros on every preset
101 NI Massive Presets
20 Keys
18 Leads
15 Synths
14 Basses
13 Pads
12 Plucks
9 Donks
8 Macros on every preset
Xfer Serum 1.113 and NI Massive 1.3 or higher is required.
Total Files:
204
.:: Presets in this demo ::.
LD Purple Ray, LD Sun Drift, PL Universe, PD Tomorrow, BA Detuned Reese, SY Liquid, PL Bliss, SY Odyssey, SY Deep Purple, BA Groove, PL Arena, PD Nostalgia, KY Soulful, DK Fade Out, PD Touch.
Premium File Contents
FILES
./NI Massive:
BA Afterlife.nmsv
BA Arena.nmsv
BA Brick.nmsv
BA Daze.nmsv
BA Flavors.nmsv
BA Heavy.nmsv
BA Hybrid.nmsv
BA Mint.nmsv
BA Powers.nmsv
BA Pulsar.nmsv
BA Ride.nmsv
BA Sirius.nmsv
BA Stack.nmsv
BA Timeless.nmsv
DK Axiom.nmsv
DK Enigma.nmsv
DK Fever.nmsv
DK Ghost.nmsv
DK Orchid.nmsv
DK Prime.nmsv
DK Prodigy.nmsv
DK Signature.nmsv
DK Touch.nmsv
KY Amnesia.nmsv
KY Blackout.nmsv
KY Craft.nmsv
KY Dream.nmsv
KY Falcon.nmsv
KY Flustered.nmsv
KY Futurism.nmsv
KY Immerse.nmsv
KY Infinity.nmsv
KY Legacy.nmsv
KY Madness.nmsv
KY Majestic.nmsv
KY Molecules.nmsv
KY Omni.nmsv
KY Prime.nmsv
KY Rebirth.nmsv
KY Solace.nmsv
KY Spectrum.nmsv
KY Sunset.nmsv
KY Symphobia.nmsv
LD Atlantis.nmsv
LD Daylight.nmsv
LD Dive.nmsv
LD Drift.nmsv
LD Genesis.nmsv
LD Immerse.nmsv
LD Mad.nmsv
LD Maze.nmsv
LD Movin.nmsv
LD Searching.nmsv
LD Speed.nmsv
LD Step.nmsv
LD Sunset.nmsv
LD Survival.nmsv
LD Synergy.nmsv
LD Technicolor.nmsv
LD Textures.nmsv
LD Velvet.nmsv
PD Blackhole.nmsv
PD Blackout.nmsv
PD Coast.nmsv
PD Dream.nmsv
PD Fade.nmsv
PD Falcon.nmsv
PD Ghost.nmsv
PD Gravity.nmsv
PD Liquid.nmsv
PD Pluto.nmsv
PD Prodigy.nmsv
PD Sweep.nmsv
PD Touch.nmsv
PL Castaway.nmsv
PL Daft.nmsv
PL Fever.nmsv
PL Ghost.nmsv
PL Hourglass.nmsv
PL Immerse.nmsv
PL Infinity.nmsv
PL Signature.nmsv
PL Skyline.nmsv
PL Sonar.nmsv
PL Soul.nmsv
PL Walls.nmsv
SY Coast.nmsv
SY Craze.nmsv
SY Enveloper.nmsv
SY Hook.nmsv
SY Legacy.nmsv
SY Maze.nmsv
SY Molecules.nmsv
SY Orion.nmsv
SY Prime.nmsv
SY Rotor.nmsv
SY Textures.nmsv
SY Tomorrow.nmsv
SY Velvet.nmsv
SY Youth.nmsv
SY Zone.nmsv
./Xfer Serum:
BA Afterlife.fxp
BA Blindside.fxp
BA Deep Sub.fxp
BA Detuned Reese.fxp
BA Dive.fxp
BA Drive.fxp
BA Gain.fxp
BA Groove.fxp
BA Invisible.fxp
BA Knob.fxp
BA Limelight.fxp
BA Morph.fxp
BA Oxygen.fxp
BA Slide.fxp
BA Synergy.fxp
BA Voltage.fxp
DK Everyday.fxp
DK Fade Out.fxp
DK Feedback.fxp
DK Nebula.fxp
DK Primetime.fxp
DK Surfaces.fxp
DK Toxicated.fxp
KY Blurr.fxp
KY Colors.fxp
KY Elevated.fxp
KY Fireflies.fxp
KY For You.fxp
KY Infinity.fxp
KY Kinetic.fxp
KY Lost Souls.fxp
KY Memories.fxp
KY Rapture.fxp
KY Rebirth.fxp
KY Retro.fxp
KY Signature.fxp
KY Soulful.fxp
KY Tasty.fxp
KY Touch.fxp
LD Addict.fxp
LD Biosphere.fxp
LD Courage.fxp
LD Hybrid.fxp
LD Mercury.fxp
LD Nomad.fxp
LD Orchid.fxp
LD Paradise.fxp
LD Pulsar.fxp
LD Purple Ray.fxp
LD Reaction.fxp
LD Renegade.fxp
LD Soul.fxp
LD Sun Drift.fxp
LD Technicolor.fxp
LD Toxicated.fxp
LD Walls.fxp
LD Youth.fxp
PD Castaway.fxp
PD Daydream.fxp
PD Daze.fxp
PD Discover.fxp
PD Escalate.fxp
PD Genesis.fxp
PD Hourglass.fxp
PD Motion.fxp
PD Nostalgia.fxp
PD Soul.fxp
PD Striped Moon.fxp
PD Sweet Escape.fxp
PD Textures.fxp
PD Tomorrow.fxp
PD Youth.fxp
PL Arena.fxp
PL Bliss.fxp
PL Classic.fxp
PL Dized.fxp
PL Exhale.fxp
PL Impact.fxp
PL Melomatic.fxp
PL Memory.fxp
PL Paradise.fxp
PL Snake.fxp
PL Statix.fxp
PL Superb.fxp
PL Textures.fxp
PL Universe.fxp
SY Brainstorm.fxp
SY Daylight.fxp
SY Deep Purple.fxp
SY Ghost.fxp
SY Juice.fxp
SY Legacy.fxp
SY Liquid.fxp
SY Lucid.fxp
SY Motion.fxp
SY Odyssey.fxp
SY Overdose.fxp
SY Rotor.fxp
SY Speed.fxp
SY Splitter.fxp
SY Stargazer.fxp