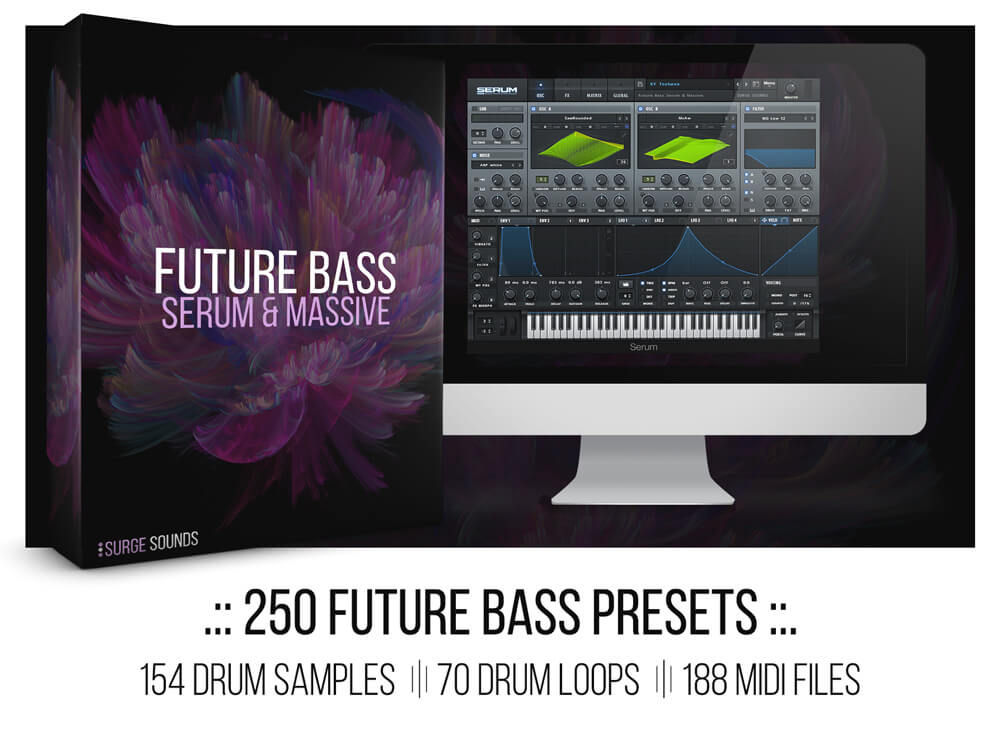 Check this video to see the presets in action.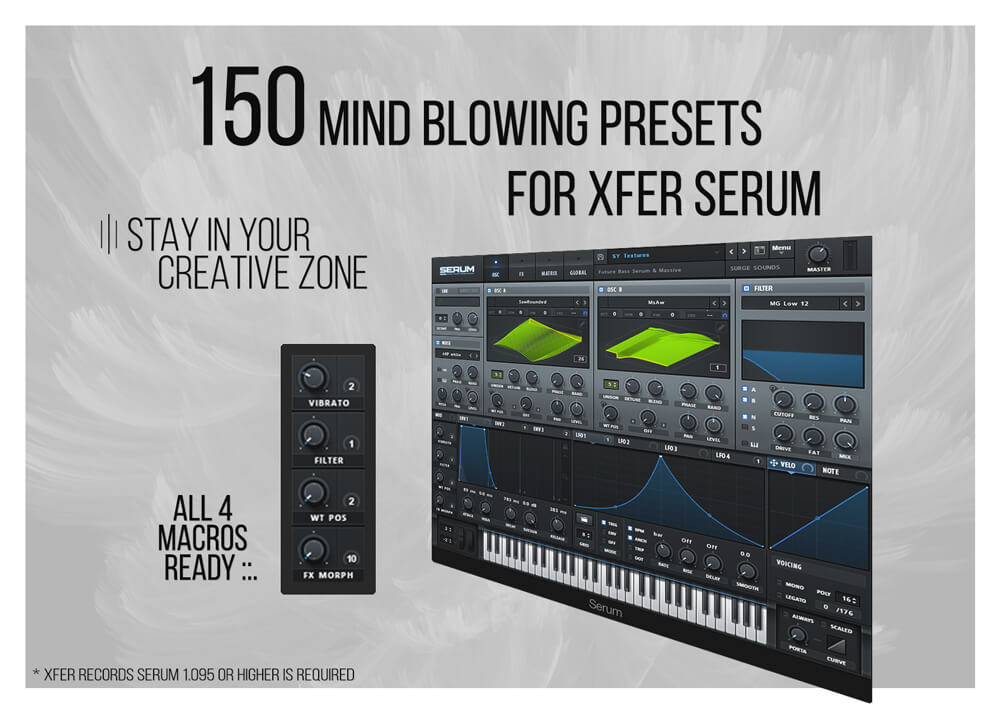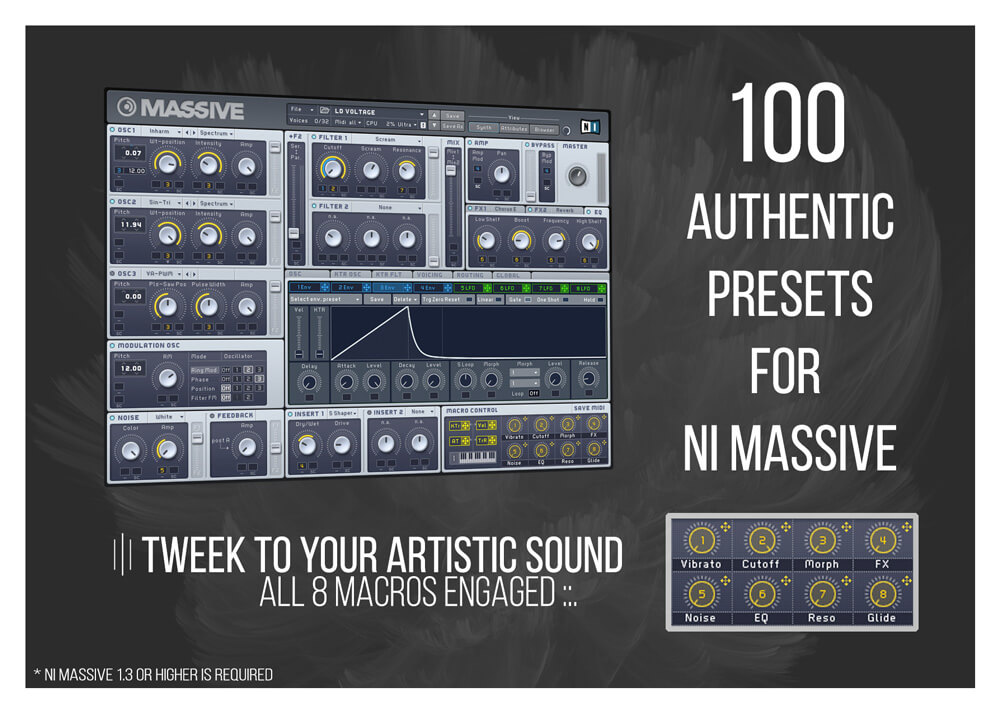 Future Bass | Serum & Massive is the next level of engaging and innovative sounds for Xfer Serum & NI Massive.
Surge Sounds is always pushing to provide cutting edge and top notch presets to enhance your creativity and be truly valuable to you.
Inside this soundbank you will find a whopping 250 Future Bass presets designed with maximum care and crafted to boost your productions to the next level! We are confident these remarkable patches will draw out engaging and mind blowing ideas.
This soundset provides 150 cutting edge patches for Xfer Serum and 100 ground breaking presets for NI Massive, all which were expertly crafted to surpass the current creative boundaries. Even more we added 500+ Mb of bonus drum samples, drum loops, drum MIDI loops and Future Bass MIDI chords!
Influenced by ground breaking artists like Flume, San Holo, MYRNE, Wave Racer and many others, every patch was designed to create an extraordinary Future Bass genre bender. 
On every preset there are 8 macros for NI Massive and 4 macros for Xfer Serum at your finger tips giving you creative control and innovation to tweak and match them to your artistic sound.
This is our 5th Future Bass pack so we have gone incredibly deep discovering and reverse engineering a ton of Future Bass sounds for you. In this adventure we also discovered a ton of engaging Future Bass chords which we are now releasing as a bonus to you!
Inside you`ll find 78 Future Bass MIDI Chords in 6 popular Future Bass keys all ready to be dropped in your next production. We added audio for each chord that way you can preview and discover your favorites before dropping them in.
If all that wasn't enough we included 40 Future Bass Kicks, 40 Snares, 50 Claps and 24 HiHat samples. A total of 154 bonus drum sounds! All drum samples were processed with cutting edge studio techniques and are ready to be dropped straight into your project. Plus we created a total of 70 drum loops in 8 different BPMs and included all the MIDI so you can mix it up!
We guarantee that what you hear in the demo is exactly what you`ll get so grab this pack today and start producing some ground breaking tunes with these mind blowing sounds!
Product Details:
150 Xfer Serum Presets
45 Leads
35 Synths
33 Plucks
28 Basses
9 Keys
4 Macros on every preset
————————
100 NI Massive Presets
33 Leads
18 Synths
21 Plucks
20 Basses
8 Keys
8 Macros on every preset
————————
Bonus items
78 Future Bass MIDI Chords with the bass note
70 Drum Loops with MIDI Patterns
40 Kicks
40 Snares
50 Claps
24 Hats
————————
Multi-Genre
100% Royalty-Free
Xfer Serum 1.095 and NI Massive 1.3 or higher is required.
(Presets in this demo)
BA Deeper Reese, BA Kinetic, BA Deeper Sub, BA Falling Reese, BA Moogy, BA Voltage, KY Indie Keys, KY Exhale, KY Infinity, LD Chance, LD Debut, LD Cutie, LD Feedback, LD Sexytime, LD Flume style, LD Treat, LD Madness, LD Nostalgia, LD Tribute, PL Youth, SY Amnesia, SY Lovely, SY Never Be Like You, SY Squared, SY Still Looking, SY Symphobia, SY Take a Chance, SY Waking Up.
Premium File Contents
| Name | Type |
| --- | --- |
| .DS_Store | .DS_Store |
| Surge Sounds _ Future Bass Serum & Massive.jpg | .jpg |
| .DS_Store | .DS_Store |
| .DS_Store | .DS_Store |
| .DS_Store | .DS_Store |
| Beat 1 - 120 BPM.wav | .wav |
| Beat 1 Clap.mid | .mid |
| Beat 1 Hat.mid | .mid |
| Beat 1 Kick.mid | .mid |
| Beat 1 Snare 2.mid | .mid |
| Beat 1 Snare.mid | .mid |
| Beat 1 Clap.mid | .mid |
| Beat 1 Hat.mid | .mid |
| Beat 1 Kick.mid | .mid |
| Beat 1 Snare 2.mid | .mid |
| Beat 1 Snare.mid | .mid |
| .DS_Store | .DS_Store |
| Beat 1 - Clap 120 BPM.wav | .wav |
| Beat 1 - Hat 120 BPM.wav | .wav |
| Beat 1 - Kick 120 BPM.wav | .wav |
| Beat 1 - Snare 120 BPM.wav | .wav |
| Beat 1 - Snare 2 120 BPM.wav | .wav |
| .DS_Store | .DS_Store |
| Beat 1 - 140 BPM.wav | .wav |
| Beat 2 - 140 BPM.wav | .wav |
| Beat 3 - 140 BPM.wav | .wav |
| Beat 4 - 140 BPM.wav | .wav |
| Beat 1 Hat.mid | .mid |
| Beat 1 Kick.mid | .mid |
| Beat 1 Snare.mid | .mid |
| Beat 2 Clap.mid | .mid |
| Beat 2 Hat.mid | .mid |
| Beat 2 Kick.mid | .mid |
| Beat 2 Snare.mid | .mid |
| Beat 3 Hat.mid | .mid |
| Beat 3 Kick.mid | .mid |
| Beat 3 Snare.mid | .mid |
| Beat 4 Clap 2.mid | .mid |
| Beat 4 Clap.mid | .mid |
| Beat 4 Hat 2.mid | .mid |
| Beat 4 Hat.mid | .mid |
| Beat 4 Kick.mid | .mid |
| Beat 1 Hat.mid | .mid |
| Beat 1 Kick.mid | .mid |
| Beat 1 Snare.mid | .mid |
| Beat 2 Clap.mid | .mid |
| Beat 2 Hat.mid | .mid |
| Beat 2 Kick.mid | .mid |
| Beat 2 Snare.mid | .mid |
| Beat 3 Hat.mid | .mid |
| Beat 3 Kick.mid | .mid |
| Beat 3 Snare.mid | .mid |
| Beat 4 Clap 2.mid | .mid |
| Beat 4 Clap.mid | .mid |
| Beat 4 Hat 2.mid | .mid |
| Beat 4 Hat.mid | .mid |
| Beat 4 Kick.mid | .mid |
| Beat 1 Hat - 140 BPM.wav | .wav |
| Beat 1 Kick - 140 BPM.wav | .wav |
| Beat 1 Snare - 140 BPM.wav | .wav |
| Beat 2 Clap - 140 BPM.wav | .wav |
| Beat 2 Hat - 140 BPM.wav | .wav |
| Beat 2 Kick - 140 BPM.wav | .wav |
| Beat 2 Snare - 140 BPM.wav | .wav |
| Beat 3 Hat - 140 BPM.wav | .wav |
| Beat 3 Kick - 140 BPM.wav | .wav |
| Beat 3 Snare - 140 BPM.wav | .wav |
| Beat 4 Clap - 140 BPM.wav | .wav |
| Beat 4 Clap 2 - 140 BPM.wav | .wav |
| Beat 4 Hat - 140 BPM.wav | .wav |
| Beat 4 Hat 2 - 140 BPM.wav | .wav |
| Beat 4 Kick - 140 BPM.wav | .wav |
| .DS_Store | .DS_Store |
| Beat 1 - 145 BPM.wav | .wav |
| Beat 2 - 145 BPM.wav | .wav |
| Beat 1 Hat.mid | .mid |
| Beat 1 Kick.mid | .mid |
| Beat 1 Snare.mid | .mid |
| Beat 2 Clap.mid | .mid |
| Beat 2 Hat.mid | .mid |
| Beat 2 Kick.mid | .mid |
| Beat 2 Snare 2.mid | .mid |
| Beat 2 Snare.mid | .mid |
| Beat 1 Hat.mid | .mid |
| Beat 1 Kick.mid | .mid |
| Beat 1 Snare.mid | .mid |
| Beat 2 Clap.mid | .mid |
| Beat 2 Hat.mid | .mid |
| Beat 2 Kick.mid | .mid |
| Beat 2 Snare 2.mid | .mid |
| Beat 2 Snare.mid | .mid |
| Beat 1 Hat - 145 BPM.wav | .wav |
| Beat 1 Kick - 145 BPM.wav | .wav |
| Beat 1 Snare - 145 BPM.wav | .wav |
| Beat 2 Clap - 145 BPM.wav | .wav |
| Beat 2 Hat - 145 BPM.wav | .wav |
| Beat 2 Kick - 145 BPM.wav | .wav |
| Beat 2 Snare - 145 BPM.wav | .wav |
| Beat 2 Snare 2 - 145 BPM.wav | .wav |
| .DS_Store | .DS_Store |
| Beat 1 - 150 BPM.wav | .wav |
| Beat 1 Hat.mid | .mid |
| Beat 1 Kick.mid | .mid |
| Beat 1 Snare.mid | .mid |
| Beat 1 Hat.mid | .mid |
| Beat 1 Kick.mid | .mid |
| Beat 1 Snare.mid | .mid |
| Beat 1 Hat - 150 BPM.wav | .wav |
| Beat 1 Kick - 150 BPM.wav | .wav |
| Beat 1 Snare - 150 BPM.wav | .wav |
| .DS_Store | .DS_Store |
| Beat 1 - 155 BPM.wav | .wav |
| Beat 1 Clap.mid | .mid |
| Beat 1 Hat.mid | .mid |
| Beat 1 Kick.mid | .mid |
| Beat 1 Snare.mid | .mid |
| Beat 1 Clap.mid | .mid |
| Beat 1 Hat.mid | .mid |
| Beat 1 Kick.mid | .mid |
| Beat 1 Snare.mid | .mid |
| Beat 1 Clap - 155 BPM.wav | .wav |
| Beat 1 Hat - 155 BPM.wav | .wav |
| Beat 1 Kick - 155 BPM.wav | .wav |
| Beat 1 Snare - 155 BPM.wav | .wav |
| .DS_Store | .DS_Store |
| Beat 1 - 160 BPM.wav | .wav |
| Beat 2 - 160 BPM.wav | .wav |
| Beat 3 - 160 BPM.wav | .wav |
| Beat 1 Hat.mid | .mid |
| Beat 1 Kick.mid | .mid |
| Beat 1 Snare.mid | .mid |
| Beat 2 Hat.mid | .mid |
| Beat 2 Kick.mid | .mid |
| Beat 2 Snare.mid | .mid |
| Beat 3 Clap.mid | .mid |
| Beat 3 Hat.mid | .mid |
| Beat 3 Kick.mid | .mid |
| Beat 3 Snare.mid | .mid |
| Beat 1 Hat.mid | .mid |
| Beat 1 Kick.mid | .mid |
| Beat 1 Snare.mid | .mid |
| Beat 2 Hat.mid | .mid |
| Beat 2 Kick.mid | .mid |
| Beat 2 Snare.mid | .mid |
| Beat 3 Clap.mid | .mid |
| Beat 3 Hat.mid | .mid |
| Beat 3 Kick.mid | .mid |
| Beat 3 Snare.mid | .mid |
| Beat 1 Hat - 160 BPM.wav | .wav |
| Beat 1 Kick - 160 BPM.wav | .wav |
| Beat 1 Snare - 160 BPM.wav | .wav |
| Beat 2 Hat - 160 BPM.wav | .wav |
| Beat 2 Kick - 160 BPM.wav | .wav |
| Beat 2 Snare - 160 BPM.wav | .wav |
| Beat 3 Clap - 160 BPM.wav | .wav |
| Beat 3 Hat - 160 BPM.wav | .wav |
| Beat 3 Kick - 160 BPM.wav | .wav |
| Beat 3 Snare - 160 BPM.wav | .wav |
| .DS_Store | .DS_Store |
| Beat 1 - 174 BPM.wav | .wav |
| Beat 1 Hat.mid | .mid |
| Beat 1 Kick.mid | .mid |
| Beat 1 Snare.mid | .mid |
| Beat 1 Hat.mid | .mid |
| Beat 1 Kick.mid | .mid |
| Beat 1 Snare.mid | .mid |
| Beat 1 Hat - 174 BPM.wav | .wav |
| Beat 1 Kick - 174 BPM.wav | .wav |
| Beat 1 Snare - 174 BPM.wav | .wav |
| .DS_Store | .DS_Store |
| Beat 1 - 208 BPM.wav | .wav |
| Beat 2 - 208 BPM.wav | .wav |
| Beat 1 Clap.mid | .mid |
| Beat 1 Kick.mid | .mid |
| Beat 1 Snare.mid | .mid |
| Beat 2 Clap.mid | .mid |
| Beat 2 Hat.mid | .mid |
| Beat 2 Kick.mid | .mid |
| Beat 2 Snare.mid | .mid |
| Beat 1 Clap.mid | .mid |
| Beat 1 Kick.mid | .mid |
| Beat 1 Snare.mid | .mid |
| Beat 2 Clap.mid | .mid |
| Beat 2 Hat.mid | .mid |
| Beat 2 Kick.mid | .mid |
| Beat 2 Snare.mid | .mid |
| Beat 1 Clap - 208 BPM.wav | .wav |
| Beat 1 Kick - 208 BPM.wav | .wav |
| Beat 1 Snare - 208 BPM.wav | .wav |
| Beat 2 Clap - 208 BPM.wav | .wav |
| Beat 2 Hat - 208 BPM.wav | .wav |
| Beat 2 Kick - 208 BPM.wav | .wav |
| Beat 2 Snare - 208 BPM.wav | .wav |
| .DS_Store | .DS_Store |
| .DS_Store | .DS_Store |
| Ab.wav | .wav |
| Abmaj7.wav | .wav |
| Bb.wav | .wav |
| Bb7.wav | .wav |
| C#.wav | .wav |
| C#sus2.wav | .wav |
| Cm.wav | .wav |
| Cm7.wav | .wav |
| Eb.wav | .wav |
| Ebsus4.wav | .wav |
| Fm.wav | .wav |
| Gm.wav | .wav |
| Gm7.wav | .wav |
| Ab ( MIDI ).mid | .mid |
| Abmaj7 ( MIDI ).mid | .mid |
| Bb ( MIDI ).mid | .mid |
| Bb7 ( MIDI ).mid | .mid |
| C# ( MIDI ).mid | .mid |
| C#sus2 ( MIDI ).mid | .mid |
| Cm ( MIDI ).mid | .mid |
| Cm7 ( MIDI ).mid | .mid |
| Eb ( MIDI ).mid | .mid |
| Ebsus4 ( MIDI ).mid | .mid |
| Fm ( MIDI ).mid | .mid |
| Gm ( MIDI ).mid | .mid |
| Gm7 ( MIDI ).mid | .mid |
| Ab.mp3 | .mp3 |
| Abmaj7.mp3 | .mp3 |
| Bb.mp3 | .mp3 |
| Bb7.mp3 | .mp3 |
| C#.mp3 | .mp3 |
| C#sus2.mp3 | .mp3 |
| Cm.mp3 | .mp3 |
| Cm7.mp3 | .mp3 |
| Eb.mp3 | .mp3 |
| Ebsus4.mp3 | .mp3 |
| Fm.mp3 | .mp3 |
| Gm.mp3 | .mp3 |
| Gm7.mp3 | .mp3 |
| BA Kickin ( Future Bass Serum & Massive ) [ Massive ].wav | .wav |
| BA Saww ( Future Bass 3 ).wav | .wav |
| KY Infinity ( Future Bass Serum & Massive ) [ Massive ].wav | .wav |
| LD Orion ( Future Bass Serum & Massive ) [ Serum ].wav | .wav |
| PL Nostalgia with Arp ( Future Bass Serum & Massive ) [ Serum ].wav | .wav |
| PL Sucker with Arp ( Future Bass Serum & Massive ) [ Massive ].wav | .wav |
| PL Youth with Arp ( Future Bass Serum & Massive ) [ Serum ].wav | .wav |
| SY Cloud 9 ( Future Bass 4 ).wav | .wav |
| SY Dream ( Future Bass Serum & Massive ) [ Massive ].wav | .wav |
| SY Pluto ( Future Bass 4 ).wav | .wav |
| SY Still Looking ( Future Bass Serum & Massive ) [ Serum ].wav | .wav |
| SY Technicolor ( Future Bass Serum & Massive ) [ Serum ].wav | .wav |
| SY Waking Up ( Future Bass Serum & Massive ) [ Serum ].wav | .wav |
| .DS_Store | .DS_Store |
| A.wav | .wav |
| Asus2.wav | .wav |
| B.wav | .wav |
| Bsus4.wav | .wav |
| C#m.wav | .wav |
| E.wav | .wav |
| Ebm.wav | .wav |
| Ebm7.wav | .wav |
| Emaj7.wav | .wav |
| F#.wav | .wav |
| F#7.wav | .wav |
| G#m.wav | .wav |
| G#m7.wav | .wav |
| A ( MIDI ).mid | .mid |
| Asus2 ( MIDI ).mid | .mid |
| B ( MIDI ).mid | .mid |
| Bsus4 ( MIDI ).mid | .mid |
| C#m ( MIDI ).mid | .mid |
| E ( MIDI ).mid | .mid |
| Ebm ( MIDI ).mid | .mid |
| Ebm7 ( MIDI ).mid | .mid |
| Emaj7 ( MIDI ).mid | .mid |
| F# ( MIDI ).mid | .mid |
| F#7 ( MIDI ).mid | .mid |
| G#m ( MIDI ).mid | .mid |
| G#m7 ( MIDI ).mid | .mid |
| A.mp3 | .mp3 |
| Asus2.mp3 | .mp3 |
| B.mp3 | .mp3 |
| Bsus4.mp3 | .mp3 |
| C#m.mp3 | .mp3 |
| E.mp3 | .mp3 |
| Ebm.mp3 | .mp3 |
| Ebm7.mp3 | .mp3 |
| Emaj7.mp3 | .mp3 |
| F#.mp3 | .mp3 |
| F#7.mp3 | .mp3 |
| G#m.mp3 | .mp3 |
| G#m7.mp3 | .mp3 |
| .DS_Store | .DS_Store |
| LD Dynamite ( Future Bass 3 ).wav | .wav |
| LD Rapture ( Future Bass Serum & Massive ) [ Serum ].wav | .wav |
| PL Blackout with Arp ( Future Bass Serum & Massive ) [ Massive ].wav | .wav |
| PL Life with Arp ( Future Bass 3 ).wav | .wav |
| SY Afterlife ( Future Bass Serum & Massive ) [ Massive ].wav | .wav |
| SY Craze ( Future Bass Serum & Massive ) [ Serum ].wav | .wav |
| SY Dynamite ( Future Bass 4 ).wav | .wav |
| SY Evoke ( Future Bass 4 ).wav | .wav |
| SY Guardians ( Future Bass 4 ).wav | .wav |
| SY Majestic ( Future Bass 3 ).wav | .wav |
| SY Memory ( Future Bass Serum & Massive ) [ Massive ].wav | .wav |
| SY Optica ( Future Bass Serum & Massive ) [ Serum ].wav | .wav |
| SY Whip It ( Future Bass 4 ).wav | .wav |
| .DS_Store | .DS_Store |
| Ab.wav | .wav |
| Absus2.wav | .wav |
| Bb.wav | .wav |
| Cm.wav | .wav |
| Dm.wav | .wav |
| Dm7.wav | .wav |
| Eb.wav | .wav |
| Ebmaj7.wav | .wav |
| F.wav | .wav |
| F7.wav | .wav |
| Gm.wav | .wav |
| Gm7.wav | .wav |
| Ab ( MIDI ).mid | .mid |
| Absus2 ( MIDI ).mid | .mid |
| Bb ( MIDI ).mid | .mid |
| Bbsus4 ( MIDI ).mid | .mid |
| Cm ( MIDI ).mid | .mid |
| Dm ( MIDI ).mid | .mid |
| Dm7 ( MIDI ).mid | .mid |
| Eb ( MIDI ).mid | .mid |
| Ebmaj7 ( MIDI ).mid | .mid |
| F ( MIDI ).mid | .mid |
| F7 ( MIDI ).mid | .mid |
| Gm ( MIDI ).mid | .mid |
| Gm7 ( MIDI ).mid | .mid |
| .DS_Store | .DS_Store |
| Ab.mp3 | .mp3 |
| Absus2.mp3 | .mp3 |
| Bb.mp3 | .mp3 |
| Cm.mp3 | .mp3 |
| Dm.mp3 | .mp3 |
| Dm7.mp3 | .mp3 |
| Eb.mp3 | .mp3 |
| Ebmaj7.mp3 | .mp3 |
| F.mp3 | .mp3 |
| F7.mp3 | .mp3 |
| Gm.mp3 | .mp3 |
| Gm7.mp3 | .mp3 |
| BA Cute Magic ( Future Bass 3 ).wav | .wav |
| KY TigerBlood ( Future Bass Serum & Massive ) [ Massive ].wav | .wav |
| LD Ancient ( Future Bass 4 ).wav | .wav |
| LD Ultra ( Future Bass Serum & Massive ) [ Massive ].wav | .wav |
| PL Best Friend with Arp ( Future Bass 3 ).wav | .wav |
| PL Blurr with Arp ( Future Bass Serum & Massive ) [ Massive ].wav | .wav |
| PL Pink Clouds with Arp ( Future Bass 4 ).wav | .wav |
| PL Spectrum with Arp ( Future Bass Serum & Massive ) [ Massive ].wav | .wav |
| SY Castaway ( Future Bass Serum & Massive ) [ Serum ].wav | .wav |
| SY Ghost ( Future Bass Serum & Massive ) [ Serum ].wav | .wav |
| SY Sadbot ( Future Bass 4 ).wav | .wav |
| SY Striped Moon ( Future Bass Serum & Massive ) [ Serum ].wav | .wav |
| .DS_Store | .DS_Store |
| Am.wav | .wav |
| Am7.wav | .wav |
| Bb.wav | .wav |
| Bbsus2.wav | .wav |
| C.wav | .wav |
| Csus4.wav | .wav |
| Dm.wav | .wav |
| Em.wav | .wav |
| Em7.wav | .wav |
| F.wav | .wav |
| Fmaj7.wav | .wav |
| G.wav | .wav |
| G7.wav | .wav |
| Am ( MIDI ).mid | .mid |
| Am7 ( MIDI ).mid | .mid |
| Bb ( MIDI ).mid | .mid |
| Bbsus2 ( MIDI ).mid | .mid |
| C ( MIDI ).mid | .mid |
| Csus4 ( MIDI ).mid | .mid |
| Dm ( MIDI ).mid | .mid |
| Em ( MIDI ).mid | .mid |
| Em7 ( MIDI ).mid | .mid |
| F ( MIDI ).mid | .mid |
| Fmaj7 ( MIDI ).mid | .mid |
| G ( MIDI ).mid | .mid |
| G7 ( MIDI ).mid | .mid |
| .DS_Store | .DS_Store |
| Am.mp3 | .mp3 |
| Am7.mp3 | .mp3 |
| Bb.mp3 | .mp3 |
| Bbsus2.mp3 | .mp3 |
| C.mp3 | .mp3 |
| Csus4.mp3 | .mp3 |
| Dm.mp3 | .mp3 |
| Em.mp3 | .mp3 |
| Em7.mp3 | .mp3 |
| F.mp3 | .mp3 |
| Fmaj7.mp3 | .mp3 |
| G.mp3 | .mp3 |
| G7.mp3 | .mp3 |
| .DS_Store | .DS_Store |
| KY Retro Keys ( Future Bass 4 ).wav | .wav |
| SY Acid Flavors ( Future Bass Serum & Massive ) [ Serum ].wav | .wav |
| SY Astronaut ( Future Bass 4 ).wav | .wav |
| SY Axiom ( Future Bass Serum & Massive ) [ Serum ].wav | .wav |
| SY Dive ( Future Bass Serum & Massive ) [ Massive ].wav | .wav |
| SY Frontier ( Future Bass 4 ).wav | .wav |
| SY Fusion ( Future Bass Serum & Massive ) [ Massive ].wav | .wav |
| SY Hold Fast ( Future Bass 3 ).wav | .wav |
| SY Movin ( Future Bass Serum & Massive ) [ Serum ].wav | .wav |
| SY Optica ( Future Bass Serum & Massive ) [ Serum ].wav | .wav |
| SY Origami ( Future Bass Serum & Massive ) [ Serum ].wav | .wav |
| SY Solace ( Future Bass Serum & Massive ) [ Massive ].wav | .wav |
| SY Waveboard ( Future Bass 3 ).wav | .wav |
| .DS_Store | .DS_Store |
| B.wav | .wav |
| Bbm.wav | .wav |
| Bbm7.wav | .wav |
| Bsus2.wav | .wav |
| C#.wav | .wav |
| C#sus4.wav | .wav |
| Ebm.wav | .wav |
| F#.wav | .wav |
| F#maj7.wav | .wav |
| Fm.wav | .wav |
| Fm7.wav | .wav |
| G#.wav | .wav |
| G#7.wav | .wav |
| B ( MIDI ).mid | .mid |
| Bbm ( MIDI ).mid | .mid |
| Bbm7 ( MIDI ).mid | .mid |
| Bsus2 ( MIDI ).mid | .mid |
| C# ( MIDI ).mid | .mid |
| C#sus4 ( MIDI ).mid | .mid |
| Ebm ( MIDI ).mid | .mid |
| F# ( MIDI ).mid | .mid |
| F#maj7 ( MIDI ).mid | .mid |
| Fm ( MIDI ).mid | .mid |
| Fm7 ( MIDI ).mid | .mid |
| G# ( MIDI ).mid | .mid |
| G#7 ( MIDI ).mid | .mid |
| B.mp3 | .mp3 |
| Bbm.mp3 | .mp3 |
| Bbm7.mp3 | .mp3 |
| Bsus2.mp3 | .mp3 |
| C#.mp3 | .mp3 |
| C#sus4.mp3 | .mp3 |
| Ebm.mp3 | .mp3 |
| F#.mp3 | .mp3 |
| F#maj7.mp3 | .mp3 |
| Fm.mp3 | .mp3 |
| Fm7.mp3 | .mp3 |
| G#.mp3 | .mp3 |
| G#7.mp3 | .mp3 |
| .DS_Store | .DS_Store |
| BA Phat ( Future Bass 3 ).wav | .wav |
| KY Memory Blocks ( Future Bass 4 ).wav | .wav |
| LD Phased ( Future Bass Serum & Massive ) [ Massive ].wav | .wav |
| LD Valkyrie ( Future Bass 4 ).wav | .wav |
| PL Electro Temple with Arp ( Future Bass 3 ).wav | .wav |
| PL Interstellar with Arp ( Future Bass 4 ).wav | .wav |
| PL Pink with Arp ( Future Bass 3 ).wav | .wav |
| SY Fire ( Future Bass Serum & Massive ) [ Massive ].wav | .wav |
| SY Hook ( Future Bass Serum & Massive ) [ Serum ].wav | .wav |
| SY Hydro ( Future Bass Serum & Massive ) [ Serum ].wav | .wav |
| SY Legacy ( Future Bass Serum & Massive ) [ Serum ].wav | .wav |
| SY Lovesick ( Future Bass Serum & Massive ) [ Serum ].wav | .wav |
| SY Tomodachi ( Future Bass Serum & Massive ) [ Massive ].wav | .wav |
| .DS_Store | .DS_Store |
| A.wav | .wav |
| A7.wav | .wav |
| Bm.wav | .wav |
| Bm7.wav | .wav |
| C.wav | .wav |
| Csus2.wav | .wav |
| D.wav | .wav |
| Dsus4.wav | .wav |
| Em.wav | .wav |
| F#m.wav | .wav |
| F#m7.wav | .wav |
| G.wav | .wav |
| Gmaj7.wav | .wav |
| A ( MIDI ).mid | .mid |
| A7 ( MIDI ).mid | .mid |
| Bm ( MIDI ).mid | .mid |
| Bm7 ( MIDI ).mid | .mid |
| C ( MIDI ).mid | .mid |
| Csus2 ( MIDI ).mid | .mid |
| D ( MIDI ).mid | .mid |
| Dsus4 ( MIDI ).mid | .mid |
| Em ( MIDI ).mid | .mid |
| F#m ( MIDI ).mid | .mid |
| F#m7 ( MIDI ).mid | .mid |
| G ( MIDI ).mid | .mid |
| Gmaj7 ( MIDI ).mid | .mid |
| A.mp3 | .mp3 |
| A7.mp3 | .mp3 |
| Bm.mp3 | .mp3 |
| Bm7.mp3 | .mp3 |
| C.mp3 | .mp3 |
| Csus2.mp3 | .mp3 |
| D.mp3 | .mp3 |
| Dsus4.mp3 | .mp3 |
| Em.mp3 | .mp3 |
| F#m.mp3 | .mp3 |
| F#m7.mp3 | .mp3 |
| G.mp3 | .mp3 |
| Gmaj7.mp3 | .mp3 |
| BA Broken Glitch ( Future Bass 4 ).wav | .wav |
| LD Brass ( Future Bass Serum & Massive ) [ Serum ].wav | .wav |
| LD Enigma ( Future Bass Serum & Massive ) [ Serum ].wav | .wav |
| LD Omni with Arp ( Future Bass Serum & Massive ) [ Serum ].wav | .wav |
| PL Daybreak with FX Morph ( Future Bass Serum & Massive ) [ Serum ].wav | .wav |
| PL Last Train with Arp ( Future Bass 3 ).wav | .wav |
| PL Toxicated with Arp ( Future Bass Serum & Massive ) [ Massive ].wav | .wav |
| SY Dive ( Future Bass Serum & Massive ) [ Massive ].wav | .wav |
| SY Halo ( Future Bass 4 ).wav | .wav |
| SY Never Be Like You ( Future Bass Serum & Massive ) [ Serum ].wav | .wav |
| SY Sirius ( Future Bass Serum & Massive ) [ Massive ].wav | .wav |
| SY Timeless ( Future Bass Serum & Massive ) [ Massive ].wav | .wav |
| SY Vanguard ( Future Bass 4 ).wav | .wav |
| .DS_Store | .DS_Store |
| .DS_Store | .DS_Store |
| SSFBSM Clap 01.wav | .wav |
| SSFBSM Clap 02.wav | .wav |
| SSFBSM Clap 03.wav | .wav |
| SSFBSM Clap 04.wav | .wav |
| SSFBSM Clap 05.wav | .wav |
| SSFBSM Clap 06.wav | .wav |
| SSFBSM Clap 07.wav | .wav |
| SSFBSM Clap 08.wav | .wav |
| SSFBSM Clap 09.wav | .wav |
| SSFBSM Clap 10.wav | .wav |
| SSFBSM Clap 11.wav | .wav |
| SSFBSM Clap 12.wav | .wav |
| SSFBSM Clap 13.wav | .wav |
| SSFBSM Clap 14.wav | .wav |
| SSFBSM Clap 15.wav | .wav |
| SSFBSM Clap 16.wav | .wav |
| SSFBSM Clap 17.wav | .wav |
| SSFBSM Clap 18.wav | .wav |
| SSFBSM Clap 19.wav | .wav |
| SSFBSM Clap 20.wav | .wav |
| SSFBSM Clap 21.wav | .wav |
| SSFBSM Clap 22.wav | .wav |
| SSFBSM Clap 23.wav | .wav |
| SSFBSM Clap 24.wav | .wav |
| SSFBSM Clap 25.wav | .wav |
| SSFBSM Clap 26.wav | .wav |
| SSFBSM Clap 27.wav | .wav |
| SSFBSM Clap 28.wav | .wav |
| SSFBSM Clap 29.wav | .wav |
| SSFBSM Clap 30.wav | .wav |
| SSFBSM Clap 31.wav | .wav |
| SSFBSM Clap 32.wav | .wav |
| SSFBSM Clap 33.wav | .wav |
| SSFBSM Clap 34.wav | .wav |
| SSFBSM Clap 35.wav | .wav |
| SSFBSM Clap 36.wav | .wav |
| SSFBSM Clap 37.wav | .wav |
| SSFBSM Clap 38.wav | .wav |
| SSFBSM Clap 39.wav | .wav |
| SSFBSM Clap 40.wav | .wav |
| SSFBSM Clap 41.wav | .wav |
| SSFBSM Clap 42.wav | .wav |
| SSFBSM Clap 43.wav | .wav |
| SSFBSM Clap 44.wav | .wav |
| SSFBSM Clap 45.wav | .wav |
| SSFBSM Clap 46.wav | .wav |
| SSFBSM Clap 47.wav | .wav |
| SSFBSM Clap 48.wav | .wav |
| SSFBSM Clap 49.wav | .wav |
| SSFBSM Clap 50.wav | .wav |
| .DS_Store | .DS_Store |
| SSFBSM Closed Hat 01.wav | .wav |
| SSFBSM Closed Hat 02.wav | .wav |
| SSFBSM Closed Hat 03.wav | .wav |
| SSFBSM Closed Hat 04.wav | .wav |
| SSFBSM Closed Hat 05.wav | .wav |
| SSFBSM Closed Hat 06.wav | .wav |
| SSFBSM Closed Hat 07.wav | .wav |
| SSFBSM Closed Hat 08.wav | .wav |
| SSFBSM Closed Hat 09.wav | .wav |
| SSFBSM Closed Hat 10.wav | .wav |
| SSFBSM Closed Hat 11.wav | .wav |
| SSFBSM Closed Hat 12.wav | .wav |
| SSFBSM Closed Hat 13.wav | .wav |
| SSFBSM Closed Hat 14.wav | .wav |
| SSFBSM Closed Hat 15.wav | .wav |
| SSFBSM Closed Hat 16.wav | .wav |
| SSFBSM Closed Hat 17.wav | .wav |
| SSFBSM Closed Hat 18.wav | .wav |
| SSFBSM Closed Hat 19.wav | .wav |
| SSFBSM Closed Hat 20.wav | .wav |
| SSFBSM Closed Hat 21.wav | .wav |
| SSFBSM Closed Hat 22.wav | .wav |
| SSFBSM Closed Hat 23.wav | .wav |
| SSFBSM Closed Hat 24.wav | .wav |
| .DS_Store | .DS_Store |
| SSFBSM Kick 01.wav | .wav |
| SSFBSM Kick 02.wav | .wav |
| SSFBSM Kick 03.wav | .wav |
| SSFBSM Kick 04.wav | .wav |
| SSFBSM Kick 05.wav | .wav |
| SSFBSM Kick 06.wav | .wav |
| SSFBSM Kick 07.wav | .wav |
| SSFBSM Kick 08.wav | .wav |
| SSFBSM Kick 09.wav | .wav |
| SSFBSM Kick 10.wav | .wav |
| SSFBSM Kick 11.wav | .wav |
| SSFBSM Kick 12.wav | .wav |
| SSFBSM Kick 13.wav | .wav |
| SSFBSM Kick 14.wav | .wav |
| SSFBSM Kick 15.wav | .wav |
| SSFBSM Kick 16.wav | .wav |
| SSFBSM Kick 17.wav | .wav |
| SSFBSM Kick 18.wav | .wav |
| SSFBSM Kick 19.wav | .wav |
| SSFBSM Kick 20.wav | .wav |
| SSFBSM Kick 21.wav | .wav |
| SSFBSM Kick 22.wav | .wav |
| SSFBSM Kick 23.wav | .wav |
| SSFBSM Kick 24.wav | .wav |
| SSFBSM Kick 25.wav | .wav |
| SSFBSM Kick 26.wav | .wav |
| SSFBSM Kick 27.wav | .wav |
| SSFBSM Kick 28.wav | .wav |
| SSFBSM Kick 29.wav | .wav |
| SSFBSM Kick 30.wav | .wav |
| SSFBSM Kick 31.wav | .wav |
| SSFBSM Kick 32.wav | .wav |
| SSFBSM Kick 33.wav | .wav |
| SSFBSM Kick 34.wav | .wav |
| SSFBSM Kick 35.wav | .wav |
| SSFBSM Kick 36.wav | .wav |
| SSFBSM Kick 37.wav | .wav |
| SSFBSM Kick 38.wav | .wav |
| SSFBSM Kick 39.wav | .wav |
| SSFBSM Kick 40.wav | .wav |
| .DS_Store | .DS_Store |
| SSFBSM Snare 01.wav | .wav |
| SSFBSM Snare 02.wav | .wav |
| SSFBSM Snare 03.wav | .wav |
| SSFBSM Snare 04.wav | .wav |
| SSFBSM Snare 05.wav | .wav |
| SSFBSM Snare 06.wav | .wav |
| SSFBSM Snare 07.wav | .wav |
| SSFBSM Snare 08.wav | .wav |
| SSFBSM Snare 09.wav | .wav |
| SSFBSM Snare 10.wav | .wav |
| SSFBSM Snare 11.wav | .wav |
| SSFBSM Snare 12.wav | .wav |
| SSFBSM Snare 13.wav | .wav |
| SSFBSM Snare 14.wav | .wav |
| SSFBSM Snare 15.wav | .wav |
| SSFBSM Snare 16.wav | .wav |
| SSFBSM Snare 17.wav | .wav |
| SSFBSM Snare 18.wav | .wav |
| SSFBSM Snare 19.wav | .wav |
| SSFBSM Snare 20.wav | .wav |
| SSFBSM Snare 21.wav | .wav |
| SSFBSM Snare 22.wav | .wav |
| SSFBSM Snare 23.wav | .wav |
| SSFBSM Snare 24.wav | .wav |
| SSFBSM Snare 25.wav | .wav |
| SSFBSM Snare 26.wav | .wav |
| SSFBSM Snare 27.wav | .wav |
| SSFBSM Snare 28.wav | .wav |
| SSFBSM Snare 29.wav | .wav |
| SSFBSM Snare 30.wav | .wav |
| SSFBSM Snare 31.wav | .wav |
| SSFBSM Snare 32.wav | .wav |
| SSFBSM Snare 33.wav | .wav |
| SSFBSM Snare 34.wav | .wav |
| SSFBSM Snare 35.wav | .wav |
| SSFBSM Snare 36.wav | .wav |
| SSFBSM Snare 37.wav | .wav |
| SSFBSM Snare 38.wav | .wav |
| SSFBSM Snare 39.wav | .wav |
| SSFBSM Snare 40.wav | .wav |
| BA Daft.nmsv | .nmsv |
| BA Domination.nmsv | .nmsv |
| BA Drones.nmsv | .nmsv |
| BA Fireflies.nmsv | .nmsv |
| BA Funky.nmsv | .nmsv |
| BA Hunter.nmsv | .nmsv |
| BA Impact.nmsv | .nmsv |
| BA Kickin.nmsv | .nmsv |
| BA Kinetic.nmsv | .nmsv |
| BA Madness.nmsv | .nmsv |
| BA Moonrise.nmsv | .nmsv |
| BA Nova.nmsv | .nmsv |
| BA Pandorum.nmsv | .nmsv |
| BA Pump.nmsv | .nmsv |
| BA Restart.nmsv | .nmsv |
| BA Showdown.nmsv | .nmsv |
| BA Smooth.nmsv | .nmsv |
| BA Solace.nmsv | .nmsv |
| BA Toxicated.nmsv | .nmsv |
| BA Tubler.nmsv | .nmsv |
| KY Exhale.nmsv | .nmsv |
| KY Infinity.nmsv | .nmsv |
| KY Orchid.nmsv | .nmsv |
| KY Rhodes.nmsv | .nmsv |
| KY Sharky.nmsv | .nmsv |
| KY Stack.nmsv | .nmsv |
| KY TigerBlood.nmsv | .nmsv |
| KY Treat.nmsv | .nmsv |
| LD Addict.nmsv | .nmsv |
| LD Addicted.nmsv | .nmsv |
| LD Afterlife.nmsv | .nmsv |
| LD Avenger.nmsv | .nmsv |
| LD Bomb.nmsv | .nmsv |
| LD Buzz.nmsv | .nmsv |
| LD Caffeine.nmsv | .nmsv |
| LD Castaway.nmsv | .nmsv |
| LD Colors.nmsv | .nmsv |
| LD Control.nmsv | .nmsv |
| LD Crypton.nmsv | .nmsv |
| LD Cutie.nmsv | .nmsv |
| LD Daze.nmsv | .nmsv |
| LD Discover.nmsv | .nmsv |
| LD Dized.nmsv | .nmsv |
| LD FeelIt.nmsv | .nmsv |
| LD Hourglass.nmsv | .nmsv |
| LD Insane.nmsv | .nmsv |
| LD Liquid.nmsv | .nmsv |
| LD Nostalgia.nmsv | .nmsv |
| LD Phased.nmsv | .nmsv |
| LD Sexytime.nmsv | .nmsv |
| LD Sonar.nmsv | .nmsv |
| LD Step.nmsv | .nmsv |
| LD Timeless.nmsv | .nmsv |
| LD TopRoller.nmsv | .nmsv |
| LD Tornado.nmsv | .nmsv |
| LD Treat.nmsv | .nmsv |
| LD Tribute.nmsv | .nmsv |
| LD Tubler.nmsv | .nmsv |
| LD Ultimatum.nmsv | .nmsv |
| LD Ultra.nmsv | .nmsv |
| LD Volver.nmsv | .nmsv |
| PL Blackout.nmsv | .nmsv |
| PL Blurr.nmsv | .nmsv |
| PL Circuit.nmsv | .nmsv |
| PL Coast.nmsv | .nmsv |
| PL Crossfire.nmsv | .nmsv |
| PL Flame.nmsv | .nmsv |
| PL Inferno.nmsv | .nmsv |
| PL Memories.nmsv | .nmsv |
| PL Nextlevel.nmsv | .nmsv |
| PL Nomad.nmsv | .nmsv |
| PL Pin Stripes.nmsv | .nmsv |
| PL Reaction.nmsv | .nmsv |
| PL Rebound.nmsv | .nmsv |
| PL Slide.nmsv | .nmsv |
| PL Spectrum.nmsv | .nmsv |
| PL Sucker.nmsv | .nmsv |
| PL Tasty.nmsv | .nmsv |
| PL Tomahawk.nmsv | .nmsv |
| PL Toxicated.nmsv | .nmsv |
| PL Typhoon.nmsv | .nmsv |
| PL Youth.nmsv | .nmsv |
| SY Afterlife.nmsv | .nmsv |
| SY Closer.nmsv | .nmsv |
| SY Dive.nmsv | .nmsv |
| SY Dream.nmsv | .nmsv |
| SY Fire.nmsv | .nmsv |
| SY For You.nmsv | .nmsv |
| SY Fusion.nmsv | .nmsv |
| SY Infinity.nmsv | .nmsv |
| SY Lost Souls.nmsv | .nmsv |
| SY Memory.nmsv | .nmsv |
| SY Meteora.nmsv | .nmsv |
| SY Sirius.nmsv | .nmsv |
| SY Solace.nmsv | .nmsv |
| SY Splitter.nmsv | .nmsv |
| SY Sunrise.nmsv | .nmsv |
| SY Sweet Escape.nmsv | .nmsv |
| SY Timeless.nmsv | .nmsv |
| SY Tomodachi.nmsv | .nmsv |
| .DS_Store | .DS_Store |
| BA Atom.fxp | .fxp |
| BA Breathe.fxp | .fxp |
| BA Craze.fxp | .fxp |
| BA Daybreak.fxp | .fxp |
| BA Deeper Reese.fxp | .fxp |
| BA Deeper Sub.fxp | .fxp |
| BA DirtyRazor.fxp | .fxp |
| BA Electric Shock.fxp | .fxp |
| BA Everyday.fxp | .fxp |
| BA Falling Reese.fxp | .fxp |
| BA Feedback.fxp | .fxp |
| BA Futuristic.fxp | .fxp |
| BA Hurricane.fxp | .fxp |
| BA Immerse.fxp | .fxp |
| BA Inspired.fxp | .fxp |
| BA Invisible.fxp | .fxp |
| BA Mad.fxp | .fxp |
| BA Maze.fxp | .fxp |
| BA Meteora.fxp | .fxp |
| BA Moogy.fxp | .fxp |
| BA Motion.fxp | .fxp |
| BA Notorious.fxp | .fxp |
| BA Paradise.fxp | .fxp |
| BA Prime.fxp | .fxp |
| BA Punch.fxp | .fxp |
| BA Stabber.fxp | .fxp |
| BA Stargazer.fxp | .fxp |
| BA Voltage.fxp | .fxp |
| KY Cruise.fxp | .fxp |
| KY Indie Keys.fxp | .fxp |
| KY Meltdown.fxp | .fxp |
| KY Ratchet.fxp | .fxp |
| KY Set It Off.fxp | .fxp |
| KY Smooth.fxp | .fxp |
| KY Space.fxp | .fxp |
| KY Surfaces.fxp | .fxp |
| KY Zone.fxp | .fxp |
| LD Altitude.fxp | .fxp |
| LD Bingo.fxp | .fxp |
| LD BlowYaMind.fxp | .fxp |
| LD Brass.fxp | .fxp |
| LD Chance.fxp | .fxp |
| LD ChopShop.fxp | .fxp |
| LD Daze.fxp | .fxp |
| LD Debut.fxp | .fxp |
| LD Dynamo.fxp | .fxp |
| LD Enigma.fxp | .fxp |
| LD Escape.fxp | .fxp |
| LD Exhale.fxp | .fxp |
| LD Feedback.fxp | .fxp |
| LD Flume style.fxp | .fxp |
| LD Flute.fxp | .fxp |
| LD Fuzz.fxp | .fxp |
| LD Gator.fxp | .fxp |
| LD Grasp It.fxp | .fxp |
| LD Gravity.fxp | .fxp |
| LD Kinetic.fxp | .fxp |
| LD Madness.fxp | .fxp |
| LD Maschine.fxp | .fxp |
| LD Master.fxp | .fxp |
| LD Mist.fxp | .fxp |
| LD Morph.fxp | .fxp |
| LD Nemasis.fxp | .fxp |
| LD Nostalgia.fxp | .fxp |
| LD Omni.fxp | .fxp |
| LD Orion.fxp | .fxp |
| LD Overdose.fxp | .fxp |
| LD Power.fxp | .fxp |
| LD Pulsar.fxp | .fxp |
| LD Rapture.fxp | .fxp |
| LD Reborn.fxp | .fxp |
| LD Renegade.fxp | .fxp |
| LD Requiem.fxp | .fxp |
| LD Riddles.fxp | .fxp |
| LD Savage.fxp | .fxp |
| LD ShowDown.fxp | .fxp |
| LD Splat.fxp | .fxp |
| LD Still Looking.fxp | .fxp |
| LD Sweep.fxp | .fxp |
| LD Synergy.fxp | .fxp |
| LD Vandal.fxp | .fxp |
| LD Waylow.fxp | .fxp |
| PL Bao.fxp | .fxp |
| PL Classic.fxp | .fxp |
| PL Cobra.fxp | .fxp |
| PL Daybreak.fxp | .fxp |
| PL Daydream.fxp | .fxp |
| PL Escalate.fxp | .fxp |
| PL Evolution.fxp | .fxp |
| PL Flustered.fxp | .fxp |
| PL Funk.fxp | .fxp |
| PL Groove.fxp | .fxp |
| PL Infuse.fxp | .fxp |
| PL Lights.fxp | .fxp |
| PL Lucid.fxp | .fxp |
| PL Metropolis.fxp | .fxp |
| PL Mint.fxp | .fxp |
| PL Momentum.fxp | .fxp |
| PL Nostalgia.fxp | .fxp |
| PL Optica.fxp | .fxp |
| PL Orchid.fxp | .fxp |
| PL Oxygen.fxp | .fxp |
| PL Phat.fxp | .fxp |
| PL Prestige.fxp | .fxp |
| PL Prodigy.fxp | .fxp |
| PL Pulse.fxp | .fxp |
| PL Raptor.fxp | .fxp |
| PL Rotor.fxp | .fxp |
| PL Shakedown.fxp | .fxp |
| PL Soul.fxp | .fxp |
| PL Sugar.fxp | .fxp |
| PL Survival.fxp | .fxp |
| PL Sweet Escape.fxp | .fxp |
| PL Walls.fxp | .fxp |
| PL Youth.fxp | .fxp |
| SY Acid Flavors.fxp | .fxp |
| SY Amnesia.fxp | .fxp |
| SY Axiom.fxp | .fxp |
| SY Castaway.fxp | .fxp |
| SY Craze.fxp | .fxp |
| SY Ghost.fxp | .fxp |
| SY Hook.fxp | .fxp |
| SY Hydro.fxp | .fxp |
| SY Immerse.fxp | .fxp |
| SY Infinity.fxp | .fxp |
| SY Legacy.fxp | .fxp |
| SY Lovely.fxp | .fxp |
| SY Lovesick.fxp | .fxp |
| SY Magnet.fxp | .fxp |
| SY Majestic.fxp | .fxp |
| SY Moment.fxp | .fxp |
| SY Moonrise.fxp | .fxp |
| SY Movin.fxp | .fxp |
| SY Nami.fxp | .fxp |
| SY Never Be Like You.fxp | .fxp |
| SY Optica.fxp | .fxp |
| SY Origami.fxp | .fxp |
| SY Paradise.fxp | .fxp |
| SY Skyline.fxp | .fxp |
| SY Squared.fxp | .fxp |
| SY Stargazer.fxp | .fxp |
| SY Striped Moon.fxp | .fxp |
| SY Sunset.fxp | .fxp |
| SY Sweet Rain.fxp | .fxp |
| SY Symphobia.fxp | .fxp |
| SY Take a Chance.fxp | .fxp |
| SY Technicolor.fxp | .fxp |
| SY Textures.fxp | .fxp |
| SY Tribute.fxp | .fxp |
| SY Waking Up.fxp | .fxp |