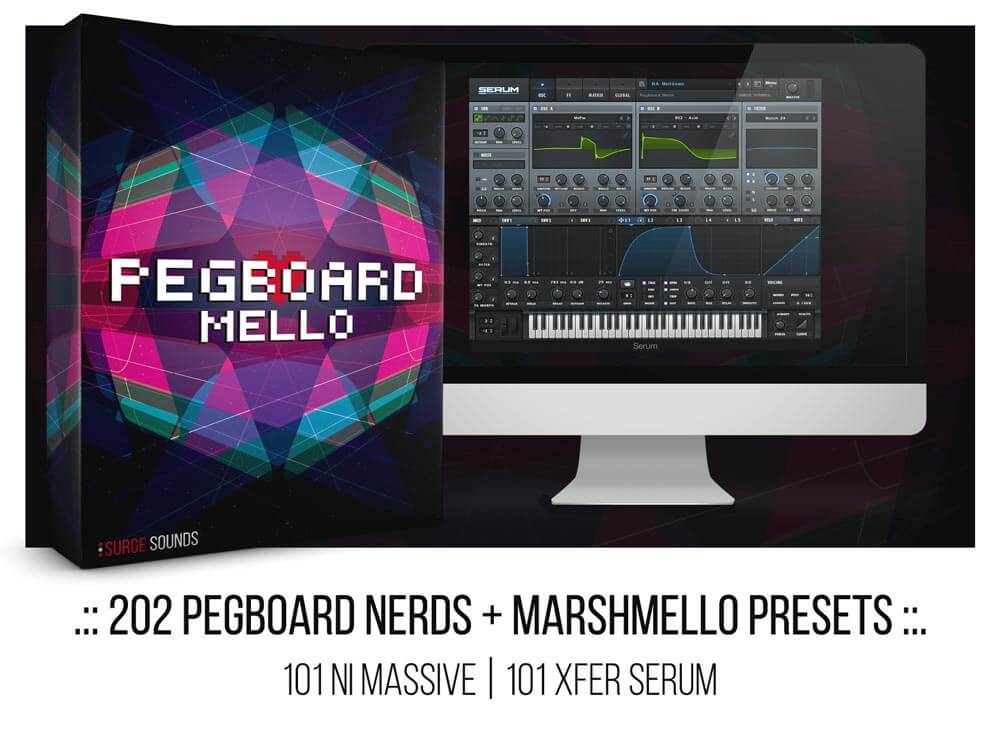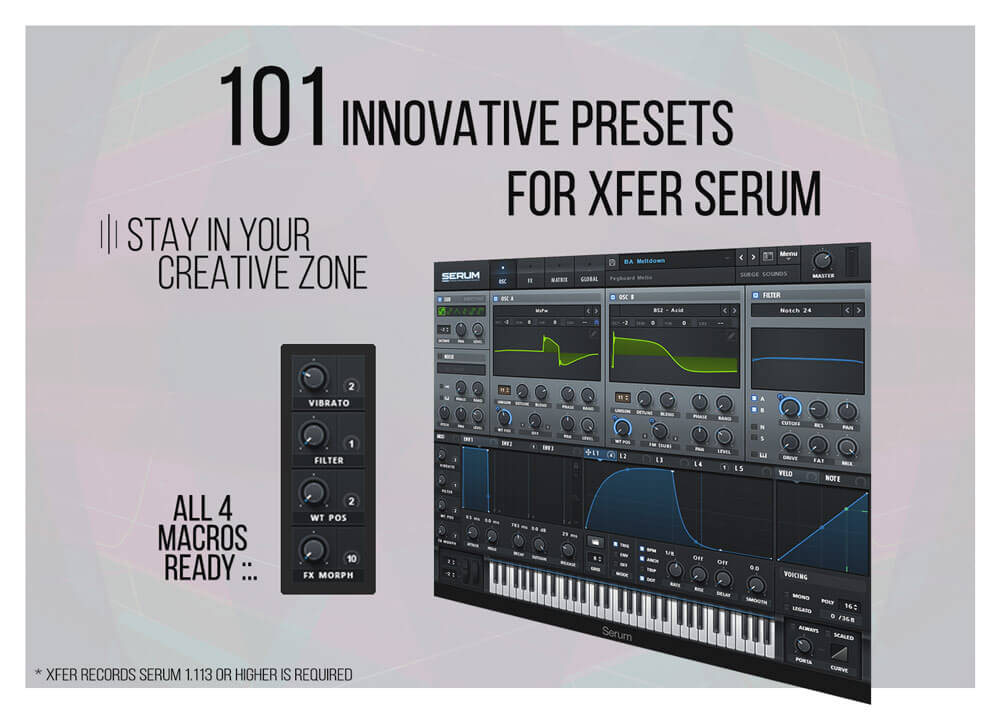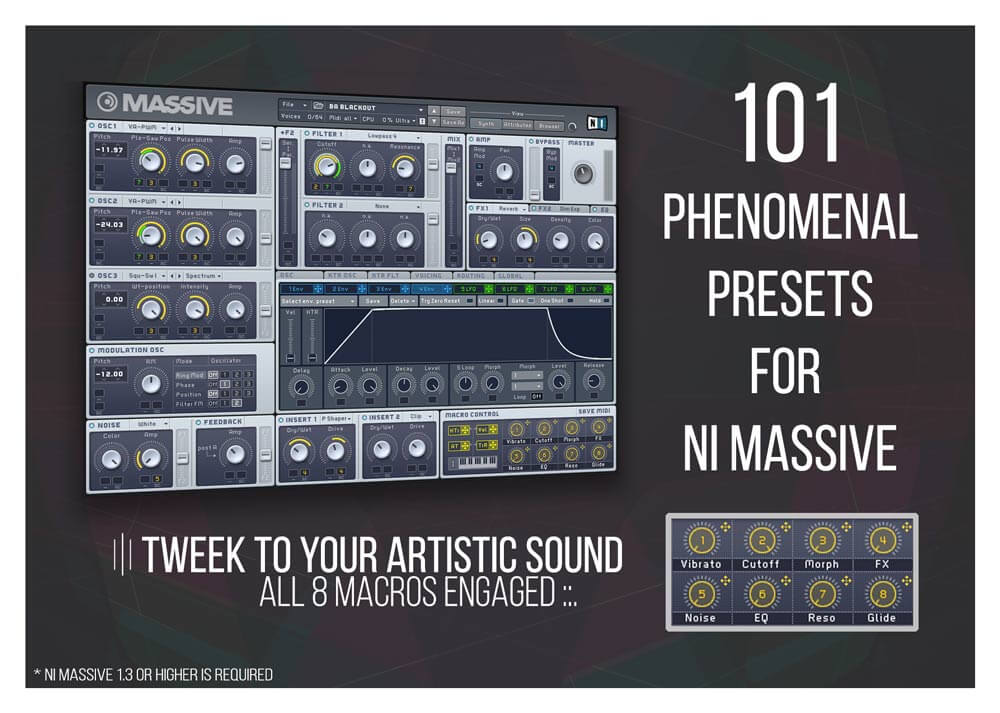 Check out this video to hear the presets in action.
Surge Sounds – Pegboard Mello is a ground breaking sound bank packed with innovative and engaging sounds.
The team behind Surge Sounds is always pushing to provide thrilling and phenomenal presets to enhance your creativity and be truly valuable to you.
 Inside this collection is a complete arsenal of 202 expertly designed presets for your next production. 101 extraordinary presets for Xfer Serum and 101 ground breaking presets for NI Massive, all which were expertly crafted to surpass the current creative boundaries.
Influenced by extraordinary artists like Pegboard Nerds and Marshmello plus many others, every patch was designed to create a powerful genre bender. We painstakingly reversed engineered chart-topping sounds plus designed fresh new ones that they would love to produce with.
At your finger tips there are 4 macros for Xfer Serum and 8 macros for NI Massive on every preset giving you ultimate creative control and innovation to tweak and match them to your artistic sound.
If you are looking for the ultimate futuristic soundset to spark your creativity plus giving you tune after tune, this is the ultimate pack for you!
HERE`S EXACTLY WHAT YOU`RE GOING TO GAIN.
.:: 101 Xfer Serum Presets ::.
38 Leads
28 Plucks
21 Basses
13 Synths
1 Pads
4 Macros on every preset
———————— 
.:: 101 NI Massive Presets ::.
33 Leads
23 Basses
20 Plucks
16 Synths
8 Keys
1 Pads
8 Macros on every preset
Premium File Contents
FILES
./NI Massive Presets:
BA Blackout.nmsv
BA Brick.nmsv
BA Clash.nmsv
BA Cobra.nmsv
BA Crossfire.nmsv
BA Culture.nmsv
BA Cyber.nmsv
BA Death.nmsv
BA Dyro.nmsv
BA Glitch.nmsv
BA Hip.nmsv
BA Inspired.nmsv
BA Maze.nmsv
BA Nastytime.nmsv
BA Nerd.nmsv
BA Nomad.nmsv
BA Oxygen.nmsv
BA Pin Stripes.nmsv
BA Proud.nmsv
BA Rebirth.nmsv
BA Screamer.nmsv
BA Touch.nmsv
BA Tremor.nmsv
KY Awe.nmsv
KY Courage.nmsv
KY Escape.nmsv
KY Memories.nmsv
KY Striped Moon.nmsv
KY Sunset.nmsv
KY Surfaces.nmsv
KY Tasty.nmsv
LD Daft.nmsv
LD Daydream.nmsv
LD Drift.nmsv
LD Dyro.nmsv
LD Emergency.nmsv
LD Falcon.nmsv
LD Fire.nmsv
LD Flustered.nmsv
LD Futurism.nmsv
LD Genesis.nmsv
LD Hop.nmsv
LD Madness.nmsv
LD Mello Voice.nmsv
LD Memoria.nmsv
LD Meteora.nmsv
LD Mint.nmsv
LD Momentum.nmsv
LD Movin.nmsv
LD Noiz.nmsv
LD Only.nmsv
LD Oxygen.nmsv
LD Phased.nmsv
LD Pluto.nmsv
LD Push.nmsv
LD Rattlesnake.nmsv
LD Shakedown.nmsv
LD Skyline.nmsv
LD Slide.nmsv
LD Spiral.nmsv
LD Striped Moon.nmsv
LD Thriller.nmsv
LD Typhoon.nmsv
LD Ultra.nmsv
PD Angelic Voice.nmsv
PL Afterlife.nmsv
PL Atlantis.nmsv
PL Binary Code.nmsv
PL Circuit.nmsv
PL Dagger.nmsv
PL DatVibe.nmsv
PL Dreamscape.nmsv
PL Hook.nmsv
PL Infinity.nmsv
PL Juice.nmsv
PL Mercury.nmsv
PL Modulation.nmsv
PL Nebula.nmsv
PL Optica.nmsv
PL Peak.nmsv
PL Retro.nmsv
PL Signature.nmsv
PL Solace.nmsv
PL Spectrum.nmsv
PL Tribute.nmsv
SY Babe.nmsv
SY Biosphere.nmsv
SY Classic.nmsv
SY Daft.nmsv
SY Dream.nmsv
SY Infuse.nmsv
SY Kinetic.nmsv
SY Memories.nmsv
SY Motion.nmsv
SY Prime.nmsv
SY Reaction.nmsv
SY Ride.nmsv
SY Timezone.nmsv
SY Treat.nmsv
SY Velvet.nmsv
SY Youth.nmsv
./Xfer Serum Presets:
BA Alone.fxp
BA Altitude.fxp
BA Blackjack.fxp
BA Castaway.fxp
BA Click Sub.fxp
BA Cobra.fxp
BA Crossfire.fxp
BA Darkness.fxp
BA Glitch.fxp
BA Kickin.fxp
BA Mello Sub.fxp
BA Meltdown.fxp
BA Pixel Growl.fxp
BA Rebirth.fxp
BA Screamer.fxp
BA Step.fxp
BA Sub Of Death.fxp
BA TopRoller.fxp
BA Valium.fxp
BA Yeti.fxp
BA Zone.fxp
LD Alarm.fxp
LD Analog.fxp
LD Awe.fxp
LD Corner.fxp
LD Dive.fxp
LD Droid.fxp
LD Edge.fxp
LD Electric Shock.fxp
LD Exhale.fxp
LD Fever.fxp
LD Impact.fxp
LD Inferno.fxp
LD Inspired.fxp
LD Invisible.fxp
LD Knob.fxp
LD Lucid.fxp
LD Luigi's Cello.fxp
LD Luigi's Trumpet.fxp
LD Mad.fxp
LD Madness.fxp
LD Melancholic.fxp
LD Meltdown.fxp
LD Mercury.fxp
LD Orchid.fxp
LD Pandorum.fxp
LD Push.fxp
LD Rapture.fxp
LD Ratchet.fxp
LD Razor Sharp 2.fxp
LD Razor Sharp.fxp
LD Rebound.fxp
LD Red Light.fxp
LD Restart.fxp
LD Shelter.fxp
LD Tornado.fxp
LD Tubler.fxp
LD Violence.fxp
LD Zone.fxp
PD Flux.fxp
PL Analog.fxp
PL Atlantis.fxp
PL Bleep.fxp
PL Castaway.fxp
PL Circuit.fxp
PL Coast.fxp
PL Craze.fxp
PL Daze.fxp
PL Droid.fxp
PL Elevated.fxp
PL Escalate.fxp
PL Evolution.fxp
PL Fusion.fxp
PL Gimme.fxp
PL Hybrid.fxp
PL Memory.fxp
PL Music Box #2.fxp
PL Music Box.fxp
PL Nebula.fxp
PL Notorious.fxp
PL Origami.fxp
PL Orion.fxp
PL Pulse.fxp
PL Robo.fxp
PL Step.fxp
PL Symphobia.fxp
PL Touch.fxp
PL Voltage.fxp
SY Amnesia.fxp
SY Daybreak.fxp
SY Eargasm.fxp
SY Gravity.fxp
SY Hourglass.fxp
SY Immerse.fxp
SY Liquid.fxp
SY Mad.fxp
SY Memory.fxp
SY Moment.fxp
SY Shot.fxp
SY Sidewinder.fxp
SY Symphobia.fxp