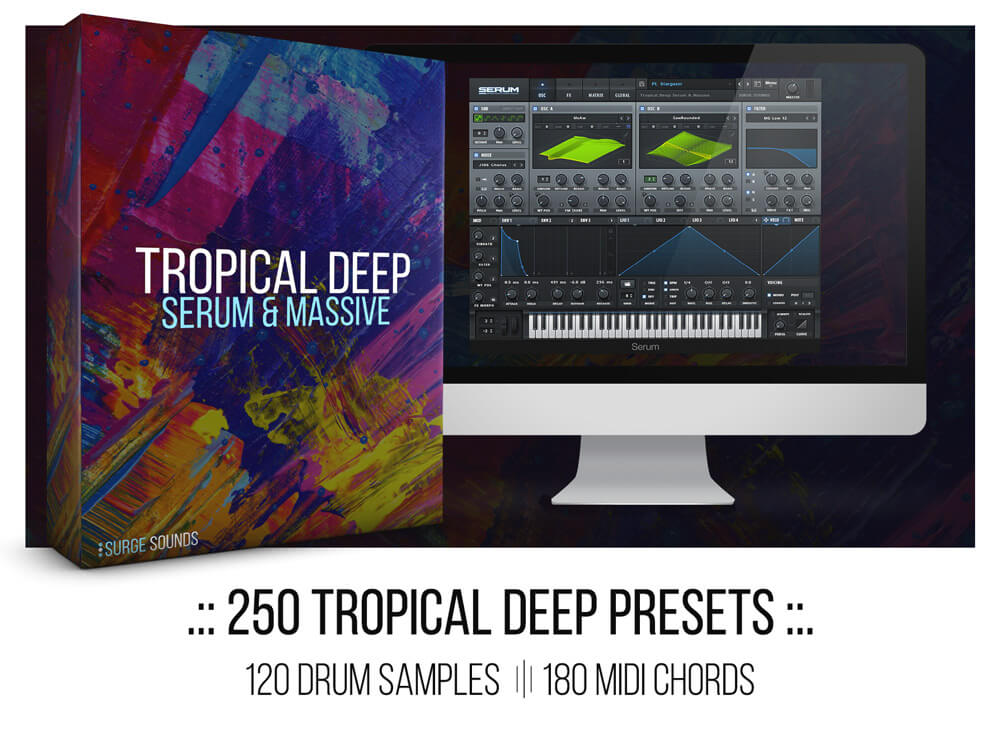 Check out this video to see the presets in action.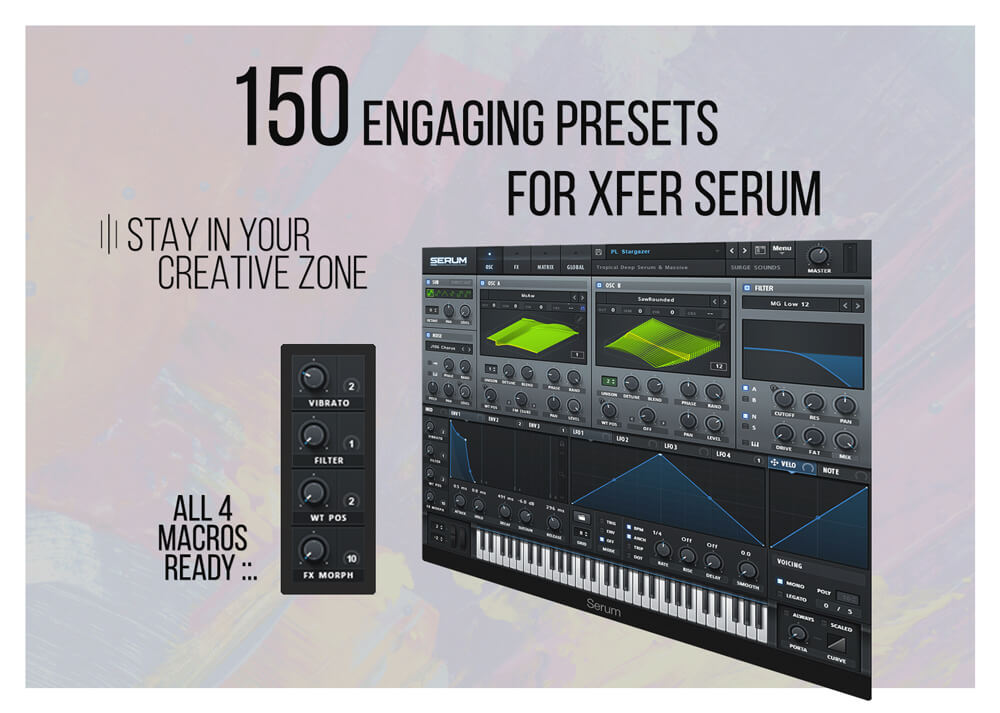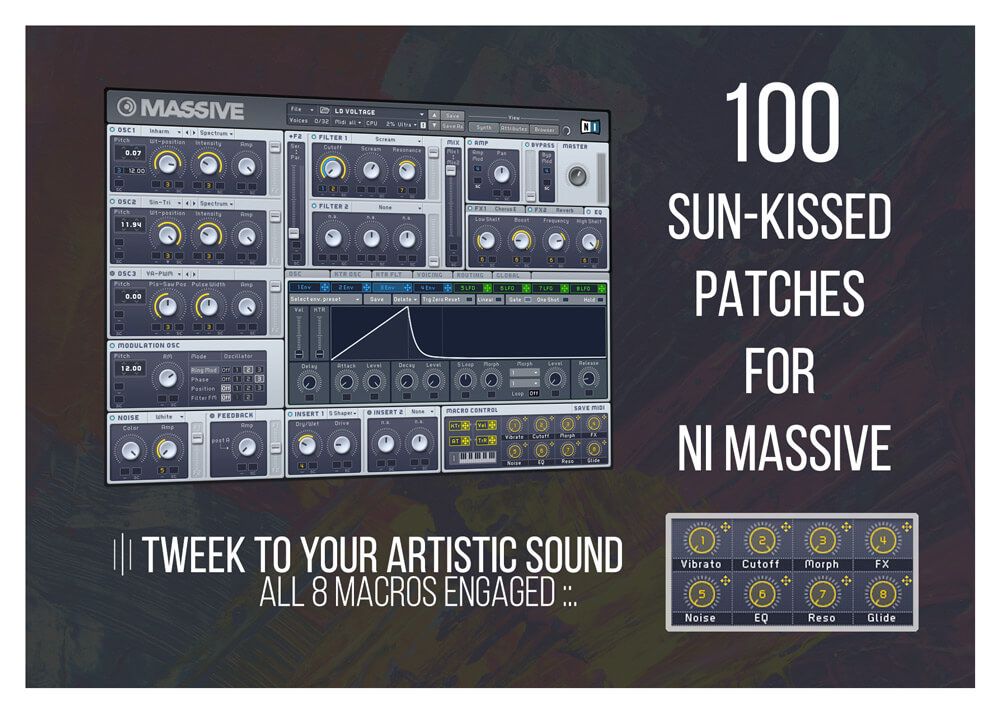 Tropical Deep | Serum & Massive is the next level of sun soaked and colorful sounds for Xfer Serum & NI Massive.
The team behind Surge Sounds is proud to present an entirely fresh collection of gorgeous sounds that will enhance your creativity.
This cutting edge collection is packed with 250 sun-kissed presets that falls between a perfect blend of Tropical and Deep House. 150 presets were carefully designed for Xfer Serum and 100 presets for NI Massive, all ready to inspire you for your next chart-topping production.
You`ll also discover a ton of bonus additions like MIDI Chords and Drum Samples inside this pack.
The concept behind this soundbank was inspired by Tropical and Deep House legends like KYGO, EDX, Thomas Jack and was enhanced to compete with the current trends.


With 8 macros for NI Massive and 4 macros for Xfer Serum assigned on every preset you can always stay in your creative zone while tweaking to match your artistic sound.
We included 15 engaging MIDI Chords in all 12 keys all ready to be dropped in your next production. Thats a total of 180 MIDI Chords! You`ll also discover 30 Kicks, 35 Snares, 30 Claps and 25 Hats for you. 120 Bonus Drum Samples all processed with cutting-edge studio techniques.
We are confident this release will get your creative juices flowing and will be a remarkable addition to your collection!
Product Details:
150 Xfer Serum Presets
45 Leads
29 Synths
36 Plucks
33 Basses
4 Pads
3 Donks
4 Macros on every preset
------------------------
100 NI Massive Presets
31 Leads
16 Synths
31 Plucks
20 Basses
1 Donk
8 Macros on every preset
------------------------
Bonus items
180 Tropical Deep MIDI Chords with the bass note
120 Drum Samples
30 Kicks
35 Snares
30 Claps
25 Hats
------------------------
Multi-Genre
100% Royalty-Free
Xfer Serum 1.095 and NI Massive 1.3 or higher is required.
(Presets in this demo)
BA Drift, BA Rebound, DK Dive, DK Kinetic, LD Happy, LD Stole, PD Inspired, PD Majestic, PL Daze, PL Stargazer, SY Fireflies, SY Textures, BA Legacy, BA Surfaces, DK Roadkill, LD Birthday, LD Exhale, LD Searching, LD Show, PL Show Me Love
Premium File Contents
| Name | Type |
| --- | --- |
| .DS_Store | .DS_Store |
| Surge Sounds _ Tropical Deep Serum & Massive.jpg | .jpg |
| .DS_Store | .DS_Store |
| .DS_Store | .DS_Store |
| A.mid | .mid |
| Aadd9.mid | .mid |
| Amaj7_9.mid | .mid |
| Bm.mid | .mid |
| Bm7.mid | .mid |
| D.mid | .mid |
| D_C#.mid | .mid |
| Dadd9.mid | .mid |
| E.mid | .mid |
| Eadd11.mid | .mid |
| Eadd9.mid | .mid |
| F#m.mid | .mid |
| F#m7.mid | .mid |
| F#madd11.mid | .mid |
| F#madd9.mid | .mid |
| B.mid | .mid |
| Badd9.mid | .mid |
| Bmaj7_9.mid | .mid |
| C#m.mid | .mid |
| C#m7.mid | .mid |
| E.mid | .mid |
| E_D#.mid | .mid |
| Eadd9.mid | .mid |
| F#.mid | .mid |
| F#add11.mid | .mid |
| F#add9.mid | .mid |
| G#m.mid | .mid |
| G#m7.mid | .mid |
| G#madd11.mid | .mid |
| G#madd9.mid | .mid |
| Bb.mid | .mid |
| Bbadd9.mid | .mid |
| Bbmaj7_9.mid | .mid |
| Cm.mid | .mid |
| Cm7.mid | .mid |
| Eb.mid | .mid |
| Eb_D.mid | .mid |
| Ebadd9.mid | .mid |
| F.mid | .mid |
| Fadd11.mid | .mid |
| Fadd9.mid | .mid |
| Gm.mid | .mid |
| Gm7.mid | .mid |
| Gmadd11.mid | .mid |
| Gmadd9.mid | .mid |
| Am.mid | .mid |
| Am7.mid | .mid |
| Amadd11.mid | .mid |
| Amadd9.mid | .mid |
| C.mid | .mid |
| Cadd9.mid | .mid |
| Cmaj7_9.mid | .mid |
| Dm.mid | .mid |
| Dm7.mid | .mid |
| F.mid | .mid |
| F_E.mid | .mid |
| Fadd9.mid | .mid |
| G.mid | .mid |
| Gadd11.mid | .mid |
| Gadd9.mid | .mid |
| Bbm.mid | .mid |
| Bbm7.mid | .mid |
| Bbmadd11.mid | .mid |
| Bbmadd9.mid | .mid |
| C#.mid | .mid |
| C#add9.mid | .mid |
| C#maj7_9.mid | .mid |
| Ebm.mid | .mid |
| Ebm7.mid | .mid |
| F#.mid | .mid |
| F#_F.mid | .mid |
| F#add9.mid | .mid |
| G#.mid | .mid |
| G#add11.mid | .mid |
| G#add9.mid | .mid |
| A.mid | .mid |
| Aadd11.mid | .mid |
| Aadd9.mid | .mid |
| Bm.mid | .mid |
| Bm7.mid | .mid |
| Bmadd11.mid | .mid |
| Bmadd9.mid | .mid |
| D.mid | .mid |
| Dadd9.mid | .mid |
| Dmaj7_9.mid | .mid |
| Em.mid | .mid |
| Em7.mid | .mid |
| G.mid | .mid |
| G_F#.mid | .mid |
| Gadd9.mid | .mid |
| A.mid | .mid |
| A_G#.mid | .mid |
| Aadd9.mid | .mid |
| B.mid | .mid |
| Badd11.mid | .mid |
| Badd9.mid | .mid |
| C#m.mid | .mid |
| C#m7.mid | .mid |
| C#madd11.mid | .mid |
| C#madd9.mid | .mid |
| E.mid | .mid |
| Eadd9.mid | .mid |
| Emaj7_9.mid | .mid |
| F#m.mid | .mid |
| F#m7.mid | .mid |
| Bb.mid | .mid |
| Bbadd11.mid | .mid |
| Bbadd9.mid | .mid |
| Cm.mid | .mid |
| Cm7.mid | .mid |
| Cmadd11.mid | .mid |
| Cmadd9.mid | .mid |
| Eb.mid | .mid |
| Ebadd9.mid | .mid |
| Ebmaj7_9.mid | .mid |
| Fm.mid | .mid |
| Fm7.mid | .mid |
| G#.mid | .mid |
| G#_G.mid | .mid |
| G#add9.mid | .mid |
| Bb.mid | .mid |
| Bb_A.mid | .mid |
| Bbadd9.mid | .mid |
| C.mid | .mid |
| Cadd11.mid | .mid |
| Cadd9.mid | .mid |
| Dm.mid | .mid |
| Dm7.mid | .mid |
| Dmadd11.mid | .mid |
| Dmadd9.mid | .mid |
| F.mid | .mid |
| Fadd9.mid | .mid |
| Fmaj7_9.mid | .mid |
| Gm.mid | .mid |
| Gm7.mid | .mid |
| B.mid | .mid |
| B_Bb.mid | .mid |
| Badd9.mid | .mid |
| C#.mid | .mid |
| C#add11.mid | .mid |
| C#add9.mid | .mid |
| Ebm.mid | .mid |
| Ebm7.mid | .mid |
| Ebmadd11.mid | .mid |
| Ebmadd9.mid | .mid |
| F#.mid | .mid |
| F#add9.mid | .mid |
| F#maj7_9.mid | .mid |
| G#m.mid | .mid |
| G#m7.mid | .mid |
| Am.mid | .mid |
| Am7.mid | .mid |
| C.mid | .mid |
| C_B.mid | .mid |
| Cadd9.mid | .mid |
| D.mid | .mid |
| Dadd11.mid | .mid |
| Dadd9.mid | .mid |
| Em.mid | .mid |
| Em7.mid | .mid |
| Emadd11.mid | .mid |
| Emadd9.mid | .mid |
| G.mid | .mid |
| Gadd9.mid | .mid |
| Gmaj7_9.mid | .mid |
| Bbm.mid | .mid |
| Bbm7.mid | .mid |
| C#.mid | .mid |
| C#_C.mid | .mid |
| C#add9.mid | .mid |
| Eb.mid | .mid |
| Ebadd11.mid | .mid |
| Ebadd9.mid | .mid |
| Fm.mid | .mid |
| Fm7.mid | .mid |
| Fmadd11.mid | .mid |
| Fmadd9.mid | .mid |
| G#.mid | .mid |
| G#add9.mid | .mid |
| G#maj7_9.mid | .mid |
| .DS_Store | .DS_Store |
| .DS_Store | .DS_Store |
| SSTDSM Clap 01.wav | .wav |
| SSTDSM Clap 02.wav | .wav |
| SSTDSM Clap 03.wav | .wav |
| SSTDSM Clap 04.wav | .wav |
| SSTDSM Clap 05.wav | .wav |
| SSTDSM Clap 06.wav | .wav |
| SSTDSM Clap 07.wav | .wav |
| SSTDSM Clap 08.wav | .wav |
| SSTDSM Clap 09.wav | .wav |
| SSTDSM Clap 10.wav | .wav |
| SSTDSM Clap 11.wav | .wav |
| SSTDSM Clap 12.wav | .wav |
| SSTDSM Clap 13.wav | .wav |
| SSTDSM Clap 14.wav | .wav |
| SSTDSM Clap 15.wav | .wav |
| SSTDSM Clap 16.wav | .wav |
| SSTDSM Clap 17.wav | .wav |
| SSTDSM Clap 18.wav | .wav |
| SSTDSM Clap 19.wav | .wav |
| SSTDSM Clap 20.wav | .wav |
| SSTDSM Clap 21.wav | .wav |
| SSTDSM Clap 22.wav | .wav |
| SSTDSM Clap 23.wav | .wav |
| SSTDSM Clap 24.wav | .wav |
| SSTDSM Clap 25.wav | .wav |
| SSTDSM Clap 26.wav | .wav |
| SSTDSM Clap 27.wav | .wav |
| SSTDSM Clap 28.wav | .wav |
| SSTDSM Clap 29.wav | .wav |
| SSTDSM Clap 30.wav | .wav |
| .DS_Store | .DS_Store |
| SSTDSM Hat 01.wav | .wav |
| SSTDSM Hat 02.wav | .wav |
| SSTDSM Hat 03.wav | .wav |
| SSTDSM Hat 04.wav | .wav |
| SSTDSM Hat 05.wav | .wav |
| SSTDSM Hat 06.wav | .wav |
| SSTDSM Hat 07.wav | .wav |
| SSTDSM Hat 08.wav | .wav |
| SSTDSM Hat 09.wav | .wav |
| SSTDSM Hat 10.wav | .wav |
| SSTDSM Hat 11.wav | .wav |
| SSTDSM Hat 12.wav | .wav |
| SSTDSM Hat 13.wav | .wav |
| SSTDSM Hat 14.wav | .wav |
| SSTDSM Hat 15.wav | .wav |
| SSTDSM Hat 16.wav | .wav |
| SSTDSM Hat 17.wav | .wav |
| SSTDSM Hat 18.wav | .wav |
| SSTDSM Hat 19.wav | .wav |
| SSTDSM Hat 20.wav | .wav |
| SSTDSM Hat 21.wav | .wav |
| SSTDSM Hat 22.wav | .wav |
| SSTDSM Hat 23.wav | .wav |
| SSTDSM Hat 24.wav | .wav |
| SSTDSM Hat 25.wav | .wav |
| .DS_Store | .DS_Store |
| SSTDSM Kick 01.wav | .wav |
| SSTDSM Kick 02.wav | .wav |
| SSTDSM Kick 03.wav | .wav |
| SSTDSM Kick 04.wav | .wav |
| SSTDSM Kick 05.wav | .wav |
| SSTDSM Kick 06.wav | .wav |
| SSTDSM Kick 07.wav | .wav |
| SSTDSM Kick 08.wav | .wav |
| SSTDSM Kick 09.wav | .wav |
| SSTDSM Kick 10.wav | .wav |
| SSTDSM Kick 11.wav | .wav |
| SSTDSM Kick 12.wav | .wav |
| SSTDSM Kick 13.wav | .wav |
| SSTDSM Kick 14.wav | .wav |
| SSTDSM Kick 15.wav | .wav |
| SSTDSM Kick 16.wav | .wav |
| SSTDSM Kick 17.wav | .wav |
| SSTDSM Kick 18.wav | .wav |
| SSTDSM Kick 19.wav | .wav |
| SSTDSM Kick 20.wav | .wav |
| SSTDSM Kick 21.wav | .wav |
| SSTDSM Kick 22.wav | .wav |
| SSTDSM Kick 23.wav | .wav |
| SSTDSM Kick 24.wav | .wav |
| SSTDSM Kick 25.wav | .wav |
| SSTDSM Kick 26.wav | .wav |
| SSTDSM Kick 27.wav | .wav |
| SSTDSM Kick 28.wav | .wav |
| SSTDSM Kick 29.wav | .wav |
| SSTDSM Kick 30.wav | .wav |
| .DS_Store | .DS_Store |
| SSTDSM Snare 01.wav | .wav |
| SSTDSM Snare 02.wav | .wav |
| SSTDSM Snare 03.wav | .wav |
| SSTDSM Snare 04.wav | .wav |
| SSTDSM Snare 05.wav | .wav |
| SSTDSM Snare 06.wav | .wav |
| SSTDSM Snare 07.wav | .wav |
| SSTDSM Snare 08.wav | .wav |
| SSTDSM Snare 09.wav | .wav |
| SSTDSM Snare 10.wav | .wav |
| SSTDSM Snare 11.wav | .wav |
| SSTDSM Snare 12.wav | .wav |
| SSTDSM Snare 13.wav | .wav |
| SSTDSM Snare 14.wav | .wav |
| SSTDSM Snare 15.wav | .wav |
| SSTDSM Snare 16.wav | .wav |
| SSTDSM Snare 17.wav | .wav |
| SSTDSM Snare 18.wav | .wav |
| SSTDSM Snare 19.wav | .wav |
| SSTDSM Snare 20.wav | .wav |
| SSTDSM Snare 21.wav | .wav |
| SSTDSM Snare 22.wav | .wav |
| SSTDSM Snare 23.wav | .wav |
| SSTDSM Snare 24.wav | .wav |
| SSTDSM Snare 25.wav | .wav |
| SSTDSM Snare 26.wav | .wav |
| SSTDSM Snare 28.wav | .wav |
| SSTDSM Snare 29.wav | .wav |
| SSTDSM Snare 30.wav | .wav |
| SSTDSM Snare 31.wav | .wav |
| SSTDSM Snare 32.wav | .wav |
| SSTDSM Snare 33.wav | .wav |
| SSTDSM Snare 34.wav | .wav |
| SSTDSM Snare 35.wav | .wav |
| SSTDSM Snare 36.wav | .wav |
| .DS_Store | .DS_Store |
| BA Breathe.nmsv | .nmsv |
| BA Colors.nmsv | .nmsv |
| BA Craft.nmsv | .nmsv |
| BA Eargasm.nmsv | .nmsv |
| BA Feedback.nmsv | .nmsv |
| BA Flame.nmsv | .nmsv |
| BA Flutter.nmsv | .nmsv |
| BA Invisible.nmsv | .nmsv |
| BA Legacy.nmsv | .nmsv |
| BA Molecules.nmsv | .nmsv |
| BA Motion.nmsv | .nmsv |
| BA Pluto.nmsv | .nmsv |
| BA Reaction.nmsv | .nmsv |
| BA Reborn.nmsv | .nmsv |
| BA Sex.nmsv | .nmsv |
| BA Striped Moon.nmsv | .nmsv |
| BA Surfaces.nmsv | .nmsv |
| BA Timezone.nmsv | .nmsv |
| BA Touch.nmsv | .nmsv |
| BA Tribute.nmsv | .nmsv |
| DK Roadkill.nmsv | .nmsv |
| LD Atlantis.nmsv | .nmsv |
| LD Awe.nmsv | .nmsv |
| LD Babe.nmsv | .nmsv |
| LD Birthday.nmsv | .nmsv |
| LD Blurr.nmsv | .nmsv |
| LD Castaway.nmsv | .nmsv |
| LD Craze.nmsv | .nmsv |
| LD Cruise.nmsv | .nmsv |
| LD Discover.nmsv | .nmsv |
| LD Dream.nmsv | .nmsv |
| LD Exhale.nmsv | .nmsv |
| LD Fever.nmsv | .nmsv |
| LD Flustered.nmsv | .nmsv |
| LD Immerse.nmsv | .nmsv |
| LD Latch.nmsv | .nmsv |
| LD Lost Souls.nmsv | .nmsv |
| LD Memory.nmsv | .nmsv |
| LD Morph.nmsv | .nmsv |
| LD Nova.nmsv | .nmsv |
| LD Orchid.nmsv | .nmsv |
| LD Party.nmsv | .nmsv |
| LD Pulse.nmsv | .nmsv |
| LD Rave.nmsv | .nmsv |
| LD Rebirth.nmsv | .nmsv |
| LD Ride.nmsv | .nmsv |
| LD Searching.nmsv | .nmsv |
| LD Shelter.nmsv | .nmsv |
| LD Show.nmsv | .nmsv |
| LD Tasty.nmsv | .nmsv |
| LD Timeless.nmsv | .nmsv |
| LD Tomodachi.nmsv | .nmsv |
| LD Youth.nmsv | .nmsv |
| PL Analog.nmsv | .nmsv |
| PL Classic.nmsv | .nmsv |
| PL Closer.nmsv | .nmsv |
| PL Coast.nmsv | .nmsv |
| PL Courage.nmsv | .nmsv |
| PL Daybreak.nmsv | .nmsv |
| PL Daydream.nmsv | .nmsv |
| PL Deep.nmsv | .nmsv |
| PL Dive.nmsv | .nmsv |
| PL Energizer.nmsv | .nmsv |
| PL Enigma.nmsv | .nmsv |
| PL FeelIt.nmsv | .nmsv |
| PL Flip.nmsv | .nmsv |
| PL Genesis.nmsv | .nmsv |
| PL Hydro.nmsv | .nmsv |
| PL Ibiza.nmsv | .nmsv |
| PL Juna.nmsv | .nmsv |
| PL Kinetic.nmsv | .nmsv |
| PL Moment.nmsv | .nmsv |
| PL Optica.nmsv | .nmsv |
| PL Show Me Love.nmsv | .nmsv |
| PL Skyline.nmsv | .nmsv |
| PL Smooth.nmsv | .nmsv |
| PL Spectrum.nmsv | .nmsv |
| PL Stargazer.nmsv | .nmsv |
| PL Sweet Rain.nmsv | .nmsv |
| PL Synergy.nmsv | .nmsv |
| PL Technicolor.nmsv | .nmsv |
| PL Textures.nmsv | .nmsv |
| PL Thriller.nmsv | .nmsv |
| PL Tomorrow.nmsv | .nmsv |
| SY Blindside.nmsv | .nmsv |
| SY Dreamscape.nmsv | .nmsv |
| SY For You.nmsv | .nmsv |
| SY Madness.nmsv | .nmsv |
| SY Memories.nmsv | .nmsv |
| SY Momentum.nmsv | .nmsv |
| SY Mystery.nmsv | .nmsv |
| SY Nami.nmsv | .nmsv |
| SY Orion.nmsv | .nmsv |
| SY Oxygen.nmsv | .nmsv |
| SY Primetime.nmsv | .nmsv |
| SY Riddles.nmsv | .nmsv |
| SY Sexytime.nmsv | .nmsv |
| SY Sonar.nmsv | .nmsv |
| SY Sunset.nmsv | .nmsv |
| SY Zone.nmsv | .nmsv |
| .DS_Store | .DS_Store |
| BA Castaway.fxp | .fxp |
| BA Classic.fxp | .fxp |
| BA Coast.fxp | .fxp |
| BA Daybreak.fxp | .fxp |
| BA Deep.fxp | .fxp |
| BA Dized.fxp | .fxp |
| BA Dreamscape.fxp | .fxp |
| BA Drift.fxp | .fxp |
| BA Flame.fxp | .fxp |
| BA Flutter.fxp | .fxp |
| BA Infinity.fxp | .fxp |
| BA Juna.fxp | .fxp |
| BA Mint.fxp | .fxp |
| BA Momentum.fxp | .fxp |
| BA Moonrise.fxp | .fxp |
| BA Morph.fxp | .fxp |
| BA Oldschool.fxp | .fxp |
| BA Party.fxp | .fxp |
| BA Reaction.fxp | .fxp |
| BA Rebound.fxp | .fxp |
| BA Searching.fxp | .fxp |
| BA Sexytime.fxp | .fxp |
| BA Signature.fxp | .fxp |
| BA Sonar.fxp | .fxp |
| BA Soul.fxp | .fxp |
| BA Spectrum.fxp | .fxp |
| BA Surfaces.fxp | .fxp |
| BA Timezone.fxp | .fxp |
| BA Treat.fxp | .fxp |
| BA Tribute.fxp | .fxp |
| BA Tubed.fxp | .fxp |
| BA Volver.fxp | .fxp |
| BA Zone.fxp | .fxp |
| DK Dive.fxp | .fxp |
| DK Kinetic.fxp | .fxp |
| DK Magnet.fxp | .fxp |
| LD Afterlife.fxp | .fxp |
| LD Atlantis.fxp | .fxp |
| LD Babe.fxp | .fxp |
| LD Blindside.fxp | .fxp |
| LD Colors.fxp | .fxp |
| LD Craze.fxp | .fxp |
| LD Cruise.fxp | .fxp |
| LD Daze.fxp | .fxp |
| LD Dive.fxp | .fxp |
| LD Drift.fxp | .fxp |
| LD Falcon.fxp | .fxp |
| LD Feedback.fxp | .fxp |
| LD FeelIt.fxp | .fxp |
| LD Fever.fxp | .fxp |
| LD Fireflies.fxp | .fxp |
| LD For You.fxp | .fxp |
| LD Happy.fxp | .fxp |
| LD Ibiza.fxp | .fxp |
| LD Kinetic.fxp | .fxp |
| LD Liquid.fxp | .fxp |
| LD Magnet.fxp | .fxp |
| LD Majestic.fxp | .fxp |
| LD Memory.fxp | .fxp |
| LD Meteora.fxp | .fxp |
| LD Nova.fxp | .fxp |
| LD Omni.fxp | .fxp |
| LD Origami.fxp | .fxp |
| LD Orion.fxp | .fxp |
| LD Oxygen.fxp | .fxp |
| LD Rapture.fxp | .fxp |
| LD Rave.fxp | .fxp |
| LD Rebirth.fxp | .fxp |
| LD Reborn.fxp | .fxp |
| LD Rebound.fxp | .fxp |
| LD Restart.fxp | .fxp |
| LD Ride.fxp | .fxp |
| LD Smooth.fxp | .fxp |
| LD Stargazer.fxp | .fxp |
| LD Stole.fxp | .fxp |
| LD Sunrise.fxp | .fxp |
| LD Superb.fxp | .fxp |
| LD Textures.fxp | .fxp |
| LD Tomorrow.fxp | .fxp |
| LD Toxicated.fxp | .fxp |
| LD Typhoon.fxp | .fxp |
| PD Awe.fxp | .fxp |
| PD Inspired.fxp | .fxp |
| PD Invisible.fxp | .fxp |
| PD Majestic.fxp | .fxp |
| PL Altitude.fxp | .fxp |
| PL Analog.fxp | .fxp |
| PL Beatz.fxp | .fxp |
| PL Blurr.fxp | .fxp |
| PL Craft.fxp | .fxp |
| PL Daze.fxp | .fxp |
| PL Discover.fxp | .fxp |
| PL Dream.fxp | .fxp |
| PL Eargasm.fxp | .fxp |
| PL Falcon.fxp | .fxp |
| PL Fire.fxp | .fxp |
| PL Flip.fxp | .fxp |
| PL Future.fxp | .fxp |
| PL Groove.fxp | .fxp |
| PL Hourglass.fxp | .fxp |
| PL Hydro.fxp | .fxp |
| PL Lucid.fxp | .fxp |
| PL Madness.fxp | .fxp |
| PL Memories.fxp | .fxp |
| PL Moment.fxp | .fxp |
| PL Movin.fxp | .fxp |
| PL Nastytime.fxp | .fxp |
| PL Nebula.fxp | .fxp |
| PL Nostalgia.fxp | .fxp |
| PL Optica.fxp | .fxp |
| PL Pluto.fxp | .fxp |
| PL Riddles.fxp | .fxp |
| PL Sex.fxp | .fxp |
| PL Shelter.fxp | .fxp |
| PL Stargazer.fxp | .fxp |
| PL Striped Moon.fxp | .fxp |
| PL Sugar.fxp | .fxp |
| PL Sweet Rain.fxp | .fxp |
| PL Synergy.fxp | .fxp |
| PL Take Off.fxp | .fxp |
| PL Tasty.fxp | .fxp |
| SY Amnesia.fxp | .fxp |
| SY Blackout.fxp | .fxp |
| SY Breathe.fxp | .fxp |
| SY Courage.fxp | .fxp |
| SY Daydream.fxp | .fxp |
| SY Daylight.fxp | .fxp |
| SY Fireflies.fxp | .fxp |
| SY Gravity.fxp | .fxp |
| SY Immerse.fxp | .fxp |
| SY Legacy.fxp | .fxp |
| SY Lost Souls.fxp | .fxp |
| SY Lovesick.fxp | .fxp |
| SY Memoria.fxp | .fxp |
| SY Meteora.fxp | .fxp |
| SY Modulation.fxp | .fxp |
| SY Molecules.fxp | .fxp |
| SY Motion.fxp | .fxp |
| SY Nami.fxp | .fxp |
| SY Orchid.fxp | .fxp |
| SY Pulse.fxp | .fxp |
| SY Solace.fxp | .fxp |
| SY Sunset.fxp | .fxp |
| SY Sweet Escape.fxp | .fxp |
| SY Textures.fxp | .fxp |
| SY Thriller.fxp | .fxp |
| SY Timeless.fxp | .fxp |
| SY Toxicated.fxp | .fxp |
| SY Tremor.fxp | .fxp |
| SY Woah.fxp | .fxp |