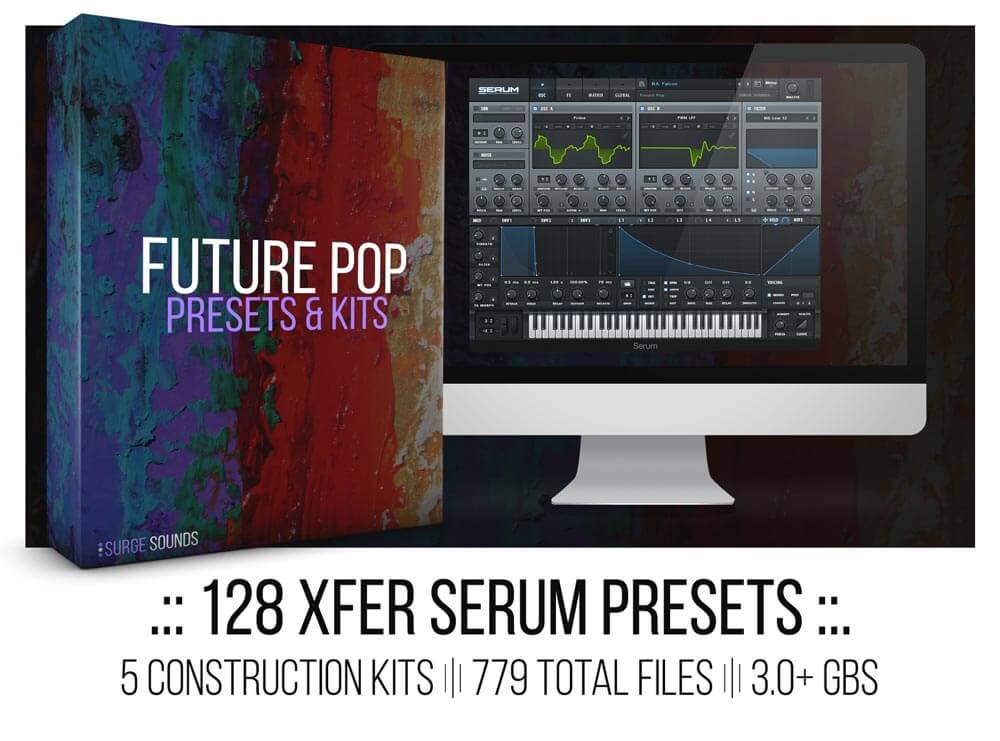 Surge Sounds - Future Pop is a modern collection packed with melodic and current sounds.
The team behind Surge Sounds is proud to present an entirely new collection of cutting edge construction kits.
This release, packed with 128 top notch Xfer Serum presets crafted with the most current sound design techniques, brings you a soundbank that you just cannot wait to start producing with!
You'll also find 5 construction kits with all the relevant 209 loops, 168 stems and 33 MIDI files from the demo. We also added 154 high quality bonus drum samples.
Every sound was inspired by so many remarkable Future Pop, Melodic Bass and Future Bass artists on the current scene.
With 4 macros on every preset you can always stay in your creative zone while tweaking to match them to your artistic sound.
If you are looking to arm yourself with an innovative and cutting edge collection for your next smash hit, this pack is perfect for you!
Pack Contents:
128 Xfer Serum Presets
22 Synths
21 Leads
21 Basses
28 Plucks
23 Pads
13 Keys
4 Macros on every preset
5 Construction Kits (MIDI files, Serum Presets, Loops & Stems)
209 Loops
168 Stems
33 MIDI Files
100% Royalty-Free
Bonus Items:
154 Drum Samples
48 Claps
47 Snares
34 Kicks
25 Hats
Total Number Of Files: 779
Over 3.0 GBs
Premium File Contents
FILES
./Bonus:
Claps
Hats
Kicks
Snares
./Bonus/Claps:
SS FP Clap 1.wav
SS FP Clap 10.wav
SS FP Clap 11.wav
SS FP Clap 12.wav
SS FP Clap 13.wav
SS FP Clap 14.wav
SS FP Clap 15.wav
SS FP Clap 16.wav
SS FP Clap 17.wav
SS FP Clap 18.wav
SS FP Clap 19.wav
SS FP Clap 2.wav
SS FP Clap 20.wav
SS FP Clap 21.wav
SS FP Clap 22.wav
SS FP Clap 23.wav
SS FP Clap 24.wav
SS FP Clap 25.wav
SS FP Clap 26.wav
SS FP Clap 27.wav
SS FP Clap 28.wav
SS FP Clap 29.wav
SS FP Clap 3.wav
SS FP Clap 30.wav
SS FP Clap 31.wav
SS FP Clap 32.wav
SS FP Clap 33.wav
SS FP Clap 34.wav
SS FP Clap 35.wav
SS FP Clap 36.wav
SS FP Clap 37.wav
SS FP Clap 38.wav
SS FP Clap 39.wav
SS FP Clap 4.wav
SS FP Clap 40.wav
SS FP Clap 41.wav
SS FP Clap 42.wav
SS FP Clap 43.wav
SS FP Clap 44.wav
SS FP Clap 45.wav
SS FP Clap 46.wav
SS FP Clap 47.wav
SS FP Clap 48.wav
SS FP Clap 5.wav
SS FP Clap 6.wav
SS FP Clap 7.wav
SS FP Clap 8.wav
SS FP Clap 9.wav
./Bonus/Hats:
SS FP Hat 1.wav
SS FP Hat 10.wav
SS FP Hat 11.wav
SS FP Hat 12.wav
SS FP Hat 13.wav
SS FP Hat 14.wav
SS FP Hat 15.wav
SS FP Hat 16.wav
SS FP Hat 17.wav
SS FP Hat 18.wav
SS FP Hat 19.wav
SS FP Hat 2.wav
SS FP Hat 20.wav
SS FP Hat 21.wav
SS FP Hat 22.wav
SS FP Hat 23.wav
SS FP Hat 24.wav
SS FP Hat 25.wav
SS FP Hat 3.wav
SS FP Hat 4.wav
SS FP Hat 5.wav
SS FP Hat 6.wav
SS FP Hat 7.wav
SS FP Hat 8.wav
SS FP Hat 9.wav
./Bonus/Kicks:
SS FP Kick 1.wav
SS FP Kick 10.wav
SS FP Kick 11.wav
SS FP Kick 12.wav
SS FP Kick 13.wav
SS FP Kick 14.wav
SS FP Kick 15.wav
SS FP Kick 16.wav
SS FP Kick 17.wav
SS FP Kick 18.wav
SS FP Kick 19.wav
SS FP Kick 2.wav
SS FP Kick 20.wav
SS FP Kick 21.wav
SS FP Kick 22.wav
SS FP Kick 23.wav
SS FP Kick 24.wav
SS FP Kick 25.wav
SS FP Kick 26.wav
SS FP Kick 27.wav
SS FP Kick 28.wav
SS FP Kick 29.wav
SS FP Kick 3.wav
SS FP Kick 30.wav
SS FP Kick 31.wav
SS FP Kick 32.wav
SS FP Kick 33.wav
SS FP Kick 34.wav
SS FP Kick 4.wav
SS FP Kick 5.wav
SS FP Kick 6.wav
SS FP Kick 7.wav
SS FP Kick 8.wav
SS FP Kick 9.wav
./Bonus/Snares:
SS FP Snare 1.wav
SS FP Snare 10.wav
SS FP Snare 11.wav
SS FP Snare 12.wav
SS FP Snare 13.wav
SS FP Snare 14.wav
SS FP Snare 15.wav
SS FP Snare 16.wav
SS FP Snare 17.wav
SS FP Snare 18.wav
SS FP Snare 19.wav
SS FP Snare 2.wav
SS FP Snare 20.wav
SS FP Snare 21.wav
SS FP Snare 22.wav
SS FP Snare 23.wav
SS FP Snare 24.wav
SS FP Snare 25.wav
SS FP Snare 26.wav
SS FP Snare 27.wav
SS FP Snare 28.wav
SS FP Snare 29.wav
SS FP Snare 3.wav
SS FP Snare 30.wav
SS FP Snare 31.wav
SS FP Snare 32.wav
SS FP Snare 33.wav
SS FP Snare 34.wav
SS FP Snare 35.wav
SS FP Snare 36.wav
SS FP Snare 37.wav
SS FP Snare 38.wav
SS FP Snare 39.wav
SS FP Snare 4.wav
SS FP Snare 40.wav
SS FP Snare 41.wav
SS FP Snare 42.wav
SS FP Snare 43.wav
SS FP Snare 44.wav
SS FP Snare 45.wav
SS FP Snare 46.wav
SS FP Snare 47.wav
SS FP Snare 5.wav
SS FP Snare 6.wav
SS FP Snare 7.wav
SS FP Snare 8.wav
SS FP Snare 9.wav
./KIT_1_145_BPM_Am:
KIT_1_145_BPM_Am_MIX.wav
Loops
MIDI
Presets
Stems
./KIT_1_145_BPM_Am/Loops:
Drum Mixdowns
Drums
FXs
FXs Mixdowns
Synths
Vox
./KIT_1_145_BPM_Am/Loops/Drum Mixdowns:
KIT_1_145_BPM_Full_Drums_1.wav
KIT_1_145_BPM_Full_Drums_2.wav
KIT_1_145_BPM_Full_Drums_Build.wav
KIT_1_145_BPM_Top_1.wav
KIT_1_145_BPM_Top_2.wav
./KIT_1_145_BPM_Am/Loops/Drums:
KIT_1_145_BPM_Boom_Fx.wav
KIT_1_145_BPM_Clap.wav
KIT_1_145_BPM_Closed_Hat.wav
KIT_1_145_BPM_Kick.wav
KIT_1_145_BPM_Snare.wav
KIT_1_145_BPM_Snare_Fill.wav
KIT_1_145_BPM_Snare_Fill_2.wav
KIT_1_145_BPM_Snare_Riser.wav
KIT_1_145_BPM_Tambourine.wav
KIT_1_145_BPM_Tom_Fill.wav
KIT_1_145_BPM_Tom_Rolls.wav
KIT_1_145_BPM_Tom_Rolls_2.wav
./KIT_1_145_BPM_Am/Loops/FXs:
KIT_1_145_BPM_Fx.wav
KIT_1_145_BPM_SubDrop.wav
KIT_1_145_BPM_White_Noise_Down_Filter.wav
KIT_1_145_BPM_White_Noise_Riser.wav
./KIT_1_145_BPM_Am/Loops/FXs Mixdowns:
KIT_1_145_BPM_Full_Fx_Build.wav
KIT_1_145_BPM_Full_Fx_Drop.wav
./KIT_1_145_BPM_Am/Loops/Synths:
KIT_1_145_BPM_BA_Falcon.wav
KIT_1_145_BPM_BA_Falcon_Dry.wav
KIT_1_145_BPM_BA_Falcon_SideChain.wav
KIT_1_145_BPM_BA_Madness.wav
KIT_1_145_BPM_BA_Madness_Dry.wav
KIT_1_145_BPM_PD_Drift.wav
KIT_1_145_BPM_PD_Drift_Dry.wav
KIT_1_145_BPM_PL_Strobe.wav
KIT_1_145_BPM_PL_Strobe_Dry.wav
KIT_1_145_BPM_PL_Strobe_SideChain.wav
KIT_1_145_BPM_SY_Rush.wav
KIT_1_145_BPM_SY_Rush_Dry.wav
KIT_1_145_BPM_SY_Rush_SideChain.wav
KIT_1_145_BPM_Sub.wav
KIT_1_145_BPM_Sub_SideChain.wav
./KIT_1_145_BPM_Am/Loops/Vox:
KIT_1_145_BPM_Vox.wav
KIT_1_145_BPM_Vox_Dry.wav
KIT_1_145_BPM_Vox_SideChain.wav
./KIT_1_145_BPM_Am/MIDI:
BA Falcon.mid
BA Madness.mid
PD Drift.mid
PL Strobe.mid
SY Rush.mid
VOX.mid
./KIT_1_145_BPM_Am/Presets:
BA Falcon.fxp
BA Madness.fxp
PD Drift.fxp
PL Strobe.fxp
SY Rush.fxp
./KIT_1_145_BPM_Am/Stems:
DRY
KIT_1_145_BPM_BA_Falcon.wav
KIT_1_145_BPM_BA_Madness.wav
KIT_1_145_BPM_Boom_FX.wav
KIT_1_145_BPM_Clap.wav
KIT_1_145_BPM_Closed_Hat.wav
KIT_1_145_BPM_FX.wav
KIT_1_145_BPM_Kick.wav
KIT_1_145_BPM_PD_Drift.wav
KIT_1_145_BPM_PL_Strobe.wav
KIT_1_145_BPM_SUB.wav
KIT_1_145_BPM_SY_Rush.wav
KIT_1_145_BPM_Snare.wav
KIT_1_145_BPM_Snare_2.wav
KIT_1_145_BPM_Snare_3.wav
KIT_1_145_BPM_Sub_Drop.wav
KIT_1_145_BPM_Tambourine.wav
KIT_1_145_BPM_Toms.wav
KIT_1_145_BPM_VOX.wav
KIT_1_145_BPM_White_Noise_FX.wav
NO SC
./KIT_1_145_BPM_Am/Stems/DRY:
KIT_1_145_BPM_BA_Falcon_DRY.wav
KIT_1_145_BPM_BA_Madness_DRY.wav
KIT_1_145_BPM_PD_Drift_DRY.wav
KIT_1_145_BPM_PL_Strobe_DRY.wav
KIT_1_145_BPM_SY_Rush_DRY.wav
KIT_1_145_BPM_VOX_DRY.wav
./KIT_1_145_BPM_Am/Stems/NO SC:
KIT_1_145_BPM_BA_Falcon_NO_SC.wav
KIT_1_145_BPM_PL_Strobe_NO_SC.wav
KIT_1_145_BPM_SUB_NO_SC.wav
KIT_1_145_BPM_SY_Rush_NO_SC.wav
KIT_1_145_BPM_VOX_NO_SC.wav
./KIT_2_145_BPM_Bm:
KIT_2_145_BPM_Bm_MIX.wav
Loops
MIDI
Presets
Stems
./KIT_2_145_BPM_Bm/Loops:
Drum Mixdowns
Drums
FXs
FXs Mixdowns
Synths
Vox
./KIT_2_145_BPM_Bm/Loops/Drum Mixdowns:
KIT_2_145_BPM_Drums_Top_1.wav
KIT_2_145_BPM_Drums_Top_2.wav
KIT_2_145_BPM_Full_Drums_1.wav
KIT_2_145_BPM_Full_Drums_2.wav
./KIT_2_145_BPM_Bm/Loops/Drums:
KIT_2_145_BPM_Boom_Fx.wav
KIT_2_145_BPM_Clap.wav
KIT_2_145_BPM_Closed_Hat.wav
KIT_2_145_BPM_Kick.wav
KIT_2_145_BPM_Open_Hat.wav
KIT_2_145_BPM_Snap.wav
KIT_2_145_BPM_Snare.wav
KIT_2_145_BPM_SnareFill.wav
KIT_2_145_BPM_SnareFill_2.wav
KIT_2_145_BPM_SnareRiser.wav
KIT_2_145_BPM_Tabla.wav
KIT_2_145_BPM_Tambourine.wav
./KIT_2_145_BPM_Bm/Loops/FXs:
KIT_2_145_BPM_Fx.wav
KIT_2_145_BPM_White_Noise_Down_Filter.wav
KIT_2_145_BPM_White_Noise_Riser.wav
./KIT_2_145_BPM_Bm/Loops/FXs Mixdowns:
KIT_2_145_BPM_Full_Fx_Build.wav
./KIT_2_145_BPM_Bm/Loops/Synths:
KIT_2_145_BPM_BA_Smooth.wav
KIT_2_145_BPM_BA_Smooth_Drop.wav
KIT_2_145_BPM_BA_Smooth_Drop_Dry.wav
KIT_2_145_BPM_BA_Smooth_Drop_SideChain.wav
KIT_2_145_BPM_BA_Smooth_Dry.wav
KIT_2_145_BPM_KY_Technicolor.wav
KIT_2_145_BPM_KY_Technicolor_Dry.wav
KIT_2_145_BPM_LD_Exhale.wav
KIT_2_145_BPM_LD_Exhale_Dry.wav
KIT_2_145_BPM_LD_Trumpet.wav
KIT_2_145_BPM_LD_Trumpet_Dry.wav
KIT_2_145_BPM_LD_Trumpet_SideChain.wav
KIT_2_145_BPM_SY_Caffeine.wav
KIT_2_145_BPM_SY_Caffeine_Dry.wav
KIT_2_145_BPM_SY_Caffeine_SideChain.wav
KIT_2_145_BPM_Sub.wav
KIT_2_145_BPM_SubDrop.wav
KIT_2_145_BPM_Sub_SideChain.wav
./KIT_2_145_BPM_Bm/Loops/Vox:
KIT_2_145_BPM_Vox.wav
KIT_2_145_BPM_Vox_Dry.wav
KIT_2_145_BPM_Vox_SideChain.wav
./KIT_2_145_BPM_Bm/MIDI:
BA Smooth (Break).mid
BA Smooth (Drop).mid
KY Technicolor.mid
LD Exhale.mid
LD Trumpet.mid
SY Caffeine.mid
VOX.mid
./KIT_2_145_BPM_Bm/Presets:
BA Smooth.fxp
KY Technicolor.fxp
LD Exhale.fxp
LD Trumpet.fxp
SY Caffeine.fxp
./KIT_2_145_BPM_Bm/Stems:
DRY
KIT_2_145_BPM_BA_Smooth.wav
KIT_2_145_BPM_Boom_FX.wav
KIT_2_145_BPM_Clap.wav
KIT_2_145_BPM_Closed_Hat.wav
KIT_2_145_BPM_FX.wav
KIT_2_145_BPM_KY_Technicolor.wav
KIT_2_145_BPM_Kick.wav
KIT_2_145_BPM_LD_Exhale.wav
KIT_2_145_BPM_LD_Trumpet.wav
KIT_2_145_BPM_Open_Hat.wav
KIT_2_145_BPM_Percussion.wav
KIT_2_145_BPM_SUB.wav
KIT_2_145_BPM_SY_Caffeine.wav
KIT_2_145_BPM_Snap.wav
KIT_2_145_BPM_Snare.wav
KIT_2_145_BPM_Snare_2.wav
KIT_2_145_BPM_Snare_3.wav
KIT_2_145_BPM_Sub_Drop.wav
KIT_2_145_BPM_Tambourine.wav
KIT_2_145_BPM_VOX.wav
KIT_2_145_BPM_WhiteNoise_FX.wav
NO SC
./KIT_2_145_BPM_Bm/Stems/DRY:
KIT_2_145_BPM_BA_Smooth_DRY.wav
KIT_2_145_BPM_KY_Technicolor_DRY.wav
KIT_2_145_BPM_LD_Exhale_DRY.wav
KIT_2_145_BPM_LD_Trumpet_DRY.wav
KIT_2_145_BPM_SY_Caffeine_DRY.wav
KIT_2_145_BPM_VOX_DRY.wav
./KIT_2_145_BPM_Bm/Stems/NO SC:
KIT_2_145_BPM_BA_Smooth_NO_SC.wav
KIT_2_145_BPM_LD_Exhale_NO_SC.wav
KIT_2_145_BPM_LD_Trumpet_NO_SC.wav
KIT_2_145_BPM_SUB_NO_SC.wav
KIT_2_145_BPM_SY_Caffeine_NO_SC.wav
KIT_2_145_BPM_VOX_NO_SC.wav
./KIT_3_145_BPM_Am:
KIT_3_145_BPM_Am_MIX.wav
Loops
MIDI
Presets
Stems
./KIT_3_145_BPM_Am/Loops:
Drum Mixdowns
Drums
FXs
FXs Mixdowns
Synths
Vox
./KIT_3_145_BPM_Am/Loops/Drum Mixdowns:
KIT_3_145_BPM_Drums_Top_1.wav
KIT_3_145_BPM_Drums_Top_2.wav
KIT_3_145_BPM_Full_Drums_1.wav
KIT_3_145_BPM_Full_Drums_2.wav
KIT_3_145_BPM_Full_Drums_Build.wav
./KIT_3_145_BPM_Am/Loops/Drums:
KIT_3_145_BPM_Boom_Fx.wav
KIT_3_145_BPM_Clap.wav
KIT_3_145_BPM_Closed_Hat.wav
KIT_3_145_BPM_Kick.wav
KIT_3_145_BPM_Open_Hat.aif
KIT_3_145_BPM_Rimshot.wav
KIT_3_145_BPM_Snare.wav
KIT_3_145_BPM_SnareRiser.wav
KIT_3_145_BPM_Snare_Fill.wav
KIT_3_145_BPM_Snare_Fill_2.wav
KIT_3_145_BPM_Tambourine_Fill.wav
KIT_3_145_BPM_Tom_Fill.wav
KIT_3_145_BPM_Tom_Fill_2.wav
./KIT_3_145_BPM_Am/Loops/FXs:
KIT_3_145_BPM_Fx.wav
KIT_3_145_BPM_White_Noise_Down_Filter.wav
KIT_3_145_BPM_White_Noise_Riser.wav
./KIT_3_145_BPM_Am/Loops/FXs Mixdowns:
KIT_3_145_BPM_Full_Fx_Build.wav
KIT_3_145_BPM_Full_Fx_Drop.wav
./KIT_3_145_BPM_Am/Loops/Synths:
KIT_3_145_BPM_BA_Retro.wav
KIT_3_145_BPM_BA_Retro_Dry.wav
KIT_3_145_BPM_BA_Retro_SideChain.wav
KIT_3_145_BPM_LD_Hourglass.wav
KIT_3_145_BPM_LD_Hourglass_Dry.wav
KIT_3_145_BPM_LD_Hourglass_SideChain.wav
KIT_3_145_BPM_PD_Textures.wav
KIT_3_145_BPM_PD_Textures_Dry.wav
KIT_3_145_BPM_SY_Movin.wav
KIT_3_145_BPM_SY_Movin_Dry.wav
KIT_3_145_BPM_SY_Movin_SideChain.wav
KIT_3_145_BPM_SY_Velvet.wav
KIT_3_145_BPM_SY_Velvet_Drop.wav
KIT_3_145_BPM_SY_Velvet_Drop_Dry.wav
KIT_3_145_BPM_SY_Velvet_Drop_SideChain.wav
KIT_3_145_BPM_SY_Velvet_Dry.wav
KIT_3_145_BPM_Sub.wav
KIT_3_145_BPM_SubDrop.wav
KIT_3_145_BPM_Sub_SideChain.wav
./KIT_3_145_BPM_Am/Loops/Vox:
KIT_3_145_BPM_Vox.wav
KIT_3_145_BPM_Vox_Dry.wav
KIT_3_145_BPM_Vox_SideChain.wav
./KIT_3_145_BPM_Am/MIDI:
BA Retro.mid
LD Hourglass.mid
PD Textures.mid
SY Movin.mid
SY Velvet (Build).mid
SY Velvet (Drop).mid
VOX (Break).mid
VOX (Drop).mid
./KIT_3_145_BPM_Am/Presets:
BA Retro.fxp
LD Hourglass.fxp
PD Textures.fxp
SY Movin.fxp
SY Velvet.fxp
./KIT_3_145_BPM_Am/Stems:
DRY
KIT_3_145_BPM_BA_Retro.wav
KIT_3_145_BPM_Boom_FX.wav
KIT_3_145_BPM_Clap.wav
KIT_3_145_BPM_Closed_Hat.wav
KIT_3_145_BPM_FX.wav
KIT_3_145_BPM_Kick.wav
KIT_3_145_BPM_LD_Hourglass.wav
KIT_3_145_BPM_Open_Hat.wav
KIT_3_145_BPM_PD_Textures.wav
KIT_3_145_BPM_Percussion.wav
KIT_3_145_BPM_SUB.wav
KIT_3_145_BPM_SY_Movin.wav
KIT_3_145_BPM_SY_Velvet.wav
KIT_3_145_BPM_Snare.wav
KIT_3_145_BPM_Snare_2.wav
KIT_3_145_BPM_Snare_3.wav
KIT_3_145_BPM_Sub_Drop.wav
KIT_3_145_BPM_Tambourine.wav
KIT_3_145_BPM_Toms.wav
KIT_3_145_BPM_VOX.wav
KIT_3_145_BPM_WhiteNoise_FX.wav
NO SC
./KIT_3_145_BPM_Am/Stems/DRY:
KIT_3_145_BPM_BA_Retro_DRY.wav
KIT_3_145_BPM_LD_Hourglass_DRY.wav
KIT_3_145_BPM_PD_Textures_DRY.wav
KIT_3_145_BPM_SY_Movin_DRY.wav
KIT_3_145_BPM_SY_Velvet_DRY.wav
KIT_3_145_BPM_VOX_DRY.wav
./KIT_3_145_BPM_Am/Stems/NO SC:
KIT_3_145_BPM_BA_Retro_NO_SC.wav
KIT_3_145_BPM_LD_Hourglass_NO_SC.wav
KIT_3_145_BPM_SUB_NO_SC.wav
KIT_3_145_BPM_SY_Movin_NO_SC.wav
KIT_3_145_BPM_SY_Velvet_NO_SC.wav
KIT_3_145_BPM_VOX_NO_SC.wav
./KIT_4_145_BPM_F#:
KIT_4_145_BPM_F#_MIX.wav
Loops
MIDI
Presets
Stems
./KIT_4_145_BPM_F#/Loops:
Drum Mixdowns
Drums
FXs
FXs Mixdowns
Synths
Vox
./KIT_4_145_BPM_F#/Loops/Drum Mixdowns:
KIT_4_145_BPM_Drums_Top_1.wav
KIT_4_145_BPM_Drums_Top_2.wav
KIT_4_145_BPM_Full_Drums_1.wav
KIT_4_145_BPM_Full_Drums_2.wav
KIT_4_145_BPM_Full_Drums_Build.wav
./KIT_4_145_BPM_F#/Loops/Drums:
KIT_4_145_BPM_Boom_Fx.wav
KIT_4_145_BPM_Closed_Hat.wav
KIT_4_145_BPM_Kick.wav
KIT_4_145_BPM_Snare.wav
KIT_4_145_BPM_Snare_Fill.wav
KIT_4_145_BPM_Snare_Riser.wav
KIT_4_145_BPM_Tabla.wav
KIT_4_145_BPM_Tambourine.wav
KIT_4_145_BPM_Tom_Fill.wav
KIT_4_145_BPM_Tom_Fill_2.wav
KIT_4_145_BPM_Tom_Fill_3.wav
./KIT_4_145_BPM_F#/Loops/FXs:
KIT_4_145_BPM_Fx.wav
KIT_4_145_BPM_White_Noise_Down_Filter.wav
KIT_4_145_BPM_White_Noise_Riser.wav
./KIT_4_145_BPM_F#/Loops/FXs Mixdowns:
KIT_4_145_BPM_Full_Fx_Build.wav
KIT_4_145_BPM_Full_Fx_Drop.wav
./KIT_4_145_BPM_F#/Loops/Synths:
KIT_4_145_BPM_BA_Oxygen.wav
KIT_4_145_BPM_BA_Oxygen_Dry.wav
KIT_4_145_BPM_BA_Oxygen_SideChain.wav
KIT_4_145_BPM_PD_Clouds.wav
KIT_4_145_BPM_PD_Clouds_Dry.wav
KIT_4_145_BPM_PL_Memory.wav
KIT_4_145_BPM_PL_Memory_Dry.wav
KIT_4_145_BPM_PL_Memory_SideChain.wav
KIT_4_145_BPM_SY_Rebirth.wav
KIT_4_145_BPM_SY_Rebirth_Dry.wav
KIT_4_145_BPM_SY_Rebirth_SideChain.wav
KIT_4_145_BPM_SY_Saint.wav
KIT_4_145_BPM_SY_Saint_Drop.wav
KIT_4_145_BPM_SY_Saint_Drop_Dry.wav
KIT_4_145_BPM_SY_Saint_Drop_SideChain.wav
KIT_4_145_BPM_SY_Saint_Dry.wav
KIT_4_145_BPM_Sub.wav
KIT_4_145_BPM_Sub_SideChain.wav
./KIT_4_145_BPM_F#/Loops/Vox:
KIT_4_145_BPM_Vox.wav
KIT_4_145_BPM_Vox_Dry.wav
KIT_4_145_BPM_Vox_SideChain.wav
./KIT_4_145_BPM_F#/MIDI:
BA Oxygen.mid
PD Clouds.mid
PL Memory.mid
SY Rebirth.mid
SY Saint (Break).mid
SY Saint (Build).mid
SY Saint (Drop).mid
VOX.mid
./KIT_4_145_BPM_F#/Presets:
BA Oxygen.fxp
PD Clouds.fxp
PL Memory.fxp
SY Rebirth.fxp
SY Saint.fxp
./KIT_4_145_BPM_F#/Stems:
DRY
KIT_4_145_BPM_BA_Oxygen.wav
KIT_4_145_BPM_Boom_FX.wav
KIT_4_145_BPM_Closed_Hat.wav
KIT_4_145_BPM_FX.wav
KIT_4_145_BPM_Kick.wav
KIT_4_145_BPM_PD_Clouds.wav
KIT_4_145_BPM_PL_Memory.wav
KIT_4_145_BPM_Percussion.wav
KIT_4_145_BPM_SUB.wav
KIT_4_145_BPM_SY_Rebirth.wav
KIT_4_145_BPM_SY_Saint.wav
KIT_4_145_BPM_Snare.wav
KIT_4_145_BPM_Snare_2.wav
KIT_4_145_BPM_Snare_3.wav
KIT_4_145_BPM_Tambourine.wav
KIT_4_145_BPM_Toms.wav
KIT_4_145_BPM_VOX.wav
KIT_4_145_BPM_WhiteNoise_FX.wav
NO SC
./KIT_4_145_BPM_F#/Stems/DRY:
KIT_4_145_BPM_BA_Oxygen_DRY.wav
KIT_4_145_BPM_PD_Clouds_DRY.wav
KIT_4_145_BPM_PL_Memory_DRY.wav
KIT_4_145_BPM_SY_Rebirth_DRY.wav
KIT_4_145_BPM_SY_Saint_DRY.wav
KIT_4_145_BPM_VOX_DRY.wav
./KIT_4_145_BPM_F#/Stems/NO SC:
KIT_4_145_BPM_BA_Oxygen_NO_SC.wav
KIT_4_145_BPM_PL_Memory_NO_SC.wav
KIT_4_145_BPM_SUB_NO_SC.wav
KIT_4_145_BPM_SY_Rebirth_NO_SC.wav
KIT_4_145_BPM_SY_Saint_NO_SC.wav
KIT_4_145_BPM_VOX_NO_SC.wav
./KIT_5_145_BPM_Em:
KIT_5_145_BPM_Em_MIX.wav
Loops
MIDI
Presets
Stems
./KIT_5_145_BPM_Em/Loops:
Drum Mixdowns
Drums
FXs
FXs Mixdowns
Synths
./KIT_5_145_BPM_Em/Loops/Drum Mixdowns:
KIT_5_145_BPM_Drums_Top_1.wav
KIT_5_145_BPM_Drums_Top_2.wav
KIT_5_145_BPM_Full_Drums_1.wav
KIT_5_145_BPM_Full_Drums_2.wav
KIT_5_145_BPM_Full_Drums_Build.wav
./KIT_5_145_BPM_Em/Loops/Drums:
KIT_5_145_BPM_Boom_Fx.wav
KIT_5_145_BPM_Clap.wav
KIT_5_145_BPM_ClosedHat.wav
KIT_5_145_BPM_Kick.wav
KIT_5_145_BPM_Shaker.wav
KIT_5_145_BPM_Snap.wav
KIT_5_145_BPM_Snare.wav
KIT_5_145_BPM_SnareRiser.wav
KIT_5_145_BPM_Snare_Fill.wav
KIT_5_145_BPM_Tambourine.wav
KIT_5_145_BPM_Tom_Fill.wav
./KIT_5_145_BPM_Em/Loops/FXs:
KIT_5_145_BPM_Fx.wav
KIT_5_145_BPM_White_Noise_Down_Filter.wav
KIT_5_145_BPM_White_Noise_Riser.wav
./KIT_5_145_BPM_Em/Loops/FXs Mixdowns:
KIT_5_145_BPM_Full_Fx_Build.wav
KIT_5_145_BPM_Full_Fx_Drop.wav
./KIT_5_145_BPM_Em/Loops/Synths:
KIT_5_145_BPM_BA_Atom.wav
KIT_5_145_BPM_BA_Atom_Dry.wav
KIT_5_145_BPM_BA_Atom_SideChain.wav
KIT_5_145_BPM_LD_Flashback_Alt.wav
KIT_5_145_BPM_LD_Flashback_Alt_Dry.wav
KIT_5_145_BPM_LD_Flashback_Alt_SideChain.wav
KIT_5_145_BPM_LD_Flashback_High.wav
KIT_5_145_BPM_LD_Flashback_High_Dry.wav
KIT_5_145_BPM_LD_Flashback_High_SideChain.wav
KIT_5_145_BPM_LD_Flashback_Low.wav
KIT_5_145_BPM_LD_Flashback_Low_Dry.wav
KIT_5_145_BPM_PD_Rezonate.wav
KIT_5_145_BPM_PD_Rezonate_Dry.wav
KIT_5_145_BPM_PD_Rezonate_SideChain.wav
KIT_5_145_BPM_SY_Evoke.wav
KIT_5_145_BPM_SY_Evoke_Dry.wav
KIT_5_145_BPM_SY_Evoke_SideChain.wav
KIT_5_145_BPM_Sub.wav
KIT_5_145_BPM_Sub_SideChain.wav
./KIT_5_145_BPM_Em/MIDI:
BA Atom.mid
LD Flashback.mid
PD Rezonate.mid
SY Evoke.mid
./KIT_5_145_BPM_Em/Presets:
BA Atom.fxp
LD Flashback.fxp
PD Rezonate.fxp
SY Evoke.fxp
./KIT_5_145_BPM_Em/Stems:
DRY
KIT_5_145_BPM_BA_Atom.wav
KIT_5_145_BPM_Boom_FX.wav
KIT_5_145_BPM_Clap.wav
KIT_5_145_BPM_Closed_Hat.wav
KIT_5_145_BPM_FX.wav
KIT_5_145_BPM_Kick.wav
KIT_5_145_BPM_LD_Flashback.wav
KIT_5_145_BPM_PD_Rezonate.wav
KIT_5_145_BPM_SUB.wav
KIT_5_145_BPM_SY_Evoke.wav
KIT_5_145_BPM_Shaker.wav
KIT_5_145_BPM_Snap.wav
KIT_5_145_BPM_Snare.wav
KIT_5_145_BPM_Snare_2.wav
KIT_5_145_BPM_Snare_3.wav
KIT_5_145_BPM_Tambourine.wav
KIT_5_145_BPM_Toms.wav
KIT_5_145_BPM_WhiteNoise_FX.wav
NO SC
./KIT_5_145_BPM_Em/Stems/DRY:
KIT_5_145_BPM_BA_Atom_DRY.wav
KIT_5_145_BPM_LD_Flashback_DRY.wav
KIT_5_145_BPM_PD_Rezonate_DRY.wav
KIT_5_145_BPM_SY_Evoke_DRY.wav
./KIT_5_145_BPM_Em/Stems/NO SC:
KIT_5_145_BPM_BA_Atom_NO_SC.wav
KIT_5_145_BPM_LD_Flashback_NO_SC.wav
KIT_5_145_BPM_PD_Rezonate_NO_SC.wav
KIT_5_145_BPM_SUB_NO_SC.wav
KIT_5_145_BPM_SY_Evoke_NO_SC.wav
./Xfer Serum Presets:
BA Atom.fxp
BA Closer.fxp
BA Currents.fxp
BA Drift.fxp
BA Falcon.fxp
BA Further.fxp
BA Haze.fxp
BA Hourglass.fxp
BA Jupiter.fxp
BA Lionheart.fxp
BA Madness.fxp
BA Maze.fxp
BA Optica.fxp
BA Oxygen.fxp
BA Retro.fxp
BA Skies.fxp
BA Smooth.fxp
BA Superb.fxp
BA Tasty.fxp
BA Timeless.fxp
BA Velvet.fxp
KY Alive.fxp
KY Ambition.fxp
KY Distance.fxp
KY Illusion.fxp
KY Infinity.fxp
KY Joyride.fxp
KY Limitless.fxp
KY Meteora.fxp
KY Moonrise.fxp
KY Playtime.fxp
KY Skyline.fxp
KY Technicolor.fxp
KY Ultra.fxp
LD Affinity.fxp
LD Apollo.fxp
LD Artisan.fxp
LD Circuit.fxp
LD Connect.fxp
LD Exhale.fxp
LD Flashback.fxp
LD Helios.fxp
LD Hero.fxp
LD Hourglass.fxp
LD Lucid.fxp
LD Overdose.fxp
LD Powers.fxp
LD Prodigy.fxp
LD Reverie.fxp
LD Surface.fxp
LD Thriller.fxp
LD Time.fxp
LD Touch.fxp
LD Trumpet.fxp
LD Universe.fxp
PD Clouds.fxp
PD Cruising.fxp
PD Debut.fxp
PD Destiny.fxp
PD Distance.fxp
PD Drift.fxp
PD Elevated.fxp
PD Indigo.fxp
PD Infinite.fxp
PD Intermission.fxp
PD Invisible.fxp
PD Kinetic.fxp
PD Latch.fxp
PD Optica.fxp
PD Orchid.fxp
PD Oxygen.fxp
PD Prestige.fxp
PD Pulse.fxp
PD Rezonate.fxp
PD Signature.fxp
PD Textures.fxp
PD Together.fxp
PD Vision.fxp
PL Arena.fxp
PL Axiom.fxp
PL Blindside.fxp
PL Chance.fxp
PL Daze.fxp
PL Destiny.fxp
PL Elevated.fxp
PL Evolve.fxp
PL Gain.fxp
PL Galaxies.fxp
PL Genesis.fxp
PL Halo.fxp
PL Heat.fxp
PL Immerse.fxp
PL Limelight.fxp
PL Majestic.fxp
PL Memory.fxp
PL Mystery.fxp
PL Neon.fxp
PL Neverland.fxp
PL Optica.fxp
PL Orchid.fxp
PL Orion.fxp
PL Rewind.fxp
PL Soul.fxp
PL Souvenir.fxp
PL Strobe.fxp
PL Touch.fxp
SY Bliss.fxp
SY Caffeine.fxp
SY Coast.fxp
SY Eargasm.fxp
SY Enigma.fxp
SY Evoke.fxp
SY Genesis.fxp
SY Heat.fxp
SY Liberty.fxp
SY Limitless.fxp
SY Midnight.fxp
SY Moment.fxp
SY Movin.fxp
SY Neverland.fxp
SY Origami.fxp
SY Rebirth.fxp
SY Rush.fxp
SY Saint.fxp
SY Stack.fxp
SY Synergy.fxp
SY Velvet.fxp
SY Wildfire.fxp