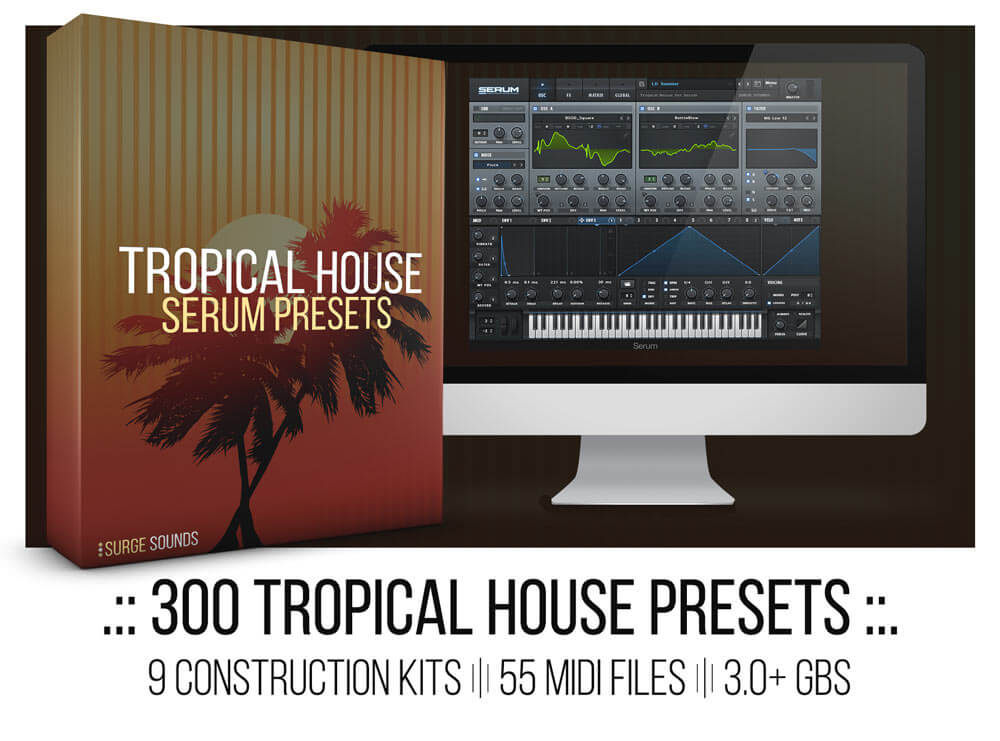 Tropical House for Serum is here and ready to dive deeper into the sun soaked and chilled sounds for Xfer Serum.
The team behind Surge Sounds presents a brand new pack full of unique and ground breaking presets that are guaranteed to enhance your creativity.
Inside this soundset you will find 300 extraordinary Xfer Serum presets designed with maximum care and crafted to boost your creativity. You will also find 9 full construction kits with all the relevant audio and MIDI as heard in the demo.
The concept behind this soundbank was inspired by Tropical House innovators like KYGO, Thomas Jack, Matoma and was designed to compete with the current chart-topping trends.
If you are looking for mind blowing sounds for your next Tropical House hit, this collection is just for you!
Pack Contents:
300 Xfer Serum Presets
58 Synths
63 Leads
42 Basses
60 Plucks
44 Pads
33 Keys
4 Macros on every preset
9 Construction Kits
55 MIDI Files
Wet, Dry, With SC and NO SC Audio Files
Over 3.0 GBs
————————
100% Royalty-Free
Premium File Contents
FILES
./KIT_1_D_100_BPM:
BA Vibrant.wav
Boom FX.wav
Closed Hat.wav
Cymbal Roll.wav
DRY
FX.wav
KIT_1_D_100_BPM_MIX.wav
KY Lagoon.wav
Kick.wav
LD Summer.wav
MIDI
NO SC
PD Textures.wav
PL Ride.wav
SY Castaway.wav
Shaker.wav
Snap.wav
Sub.wav
Tambourine.wav
White Noise Down.wav
White Noise Up.wav
./KIT_1_D_100_BPM/DRY:
BA Vibrant DRY.wav
KY Lagoon DRY.wav
LD Summer DRY.wav
PD Textures DRY.wav
PL Ride DRY.wav
SY Castaway DRY.wav
./KIT_1_D_100_BPM/MIDI:
BA Vibrant.mid
KY Lagoon.mid
LD Summer.mid
PD Textures.mid
PL Ride.mid
SY Castaway.mid
./KIT_1_D_100_BPM/NO SC:
BA Vibrant NO SC.wav
KY Lagoon NO SC.wav
LD Summer NO SC.wav
PD Textures NO SC.wav
PL Ride NO SC.wav
SY Castaway NO SC.wav
Sub NO SC.wav
./KIT_2_D_100_BPM:
BA Cove.wav
Boom FX.wav
Clap.wav
Closed Hat.wav
Cymbal Roll.wav
DRY
FX.wav
KIT_2_D_100_BPM_MIX.wav
KY Sunkissed.wav
Kick.wav
LD Surf.wav
MIDI
NO SC
PD Moment.wav
PL Yacht.wav
SY Island.wav
Shaker.wav
Snare.wav
Sub Drop.wav
Sub.wav
Water.wav
White Noise Down.wav
White Noise Up.wav
Windchimes.wav
./KIT_2_D_100_BPM/DRY:
BA Cove DRY.wav
KY Sunkissed DRY.wav
LD Surf DRY.wav
PD Moment DRY.wav
PL Yacht DRY.wav
SY Island DRY.wav
./KIT_2_D_100_BPM/MIDI:
BA Cove.mid
KY Sunkissed.mid
LD Surf.mid
PD Moment.mid
PL Yacht.mid
SY Island.mid
./KIT_2_D_100_BPM/NO SC:
BA Cove NO SC.wav
KY Sunkissed NO SC.wav
LD Surf NO SC.wav
PD Moment NO SC.wav
PL Yacht NO SC.wav
SY Island NO SC.wav
Sub NO SC.wav
./KIT_3_Ab_100_BPM:
BA Paddleboat.wav
Boom FX.wav
Cymbal Roll.wav
DRY
FX.wav
KIT_3_Ab_100_BPM_MIX.wav
KY Popsicle.wav
Kick.wav
LD Vibrant.wav
MIDI
NO SC
PD Vacation.wav
PL Harmony.wav
SY Jammy.wav
Shaker.wav
Snap.wav
Snare.wav
Sub Drop.wav
Sub.wav
Tambourine.wav
White Noise Down.wav
White Noise Up.wav
./KIT_3_Ab_100_BPM/DRY:
BA Paddleboat DRY.wav
KY Popsicle DRY.wav
LD Vibrant DRY.wav
PD Vacation DRY.wav
PL Harmony DRY.wav
SY Jammy DRY.wav
./KIT_3_Ab_100_BPM/MIDI:
BA Paddleboat.mid
KY Popsicle.mid
LD Vibrant.mid
PD Vacation.mid
PL Harmony.mid
SY Jammy.mid
./KIT_3_Ab_100_BPM/NO SC:
BA Paddleboat NO SC.wav
KY Popsicle NO SC.wav
LD Vibrant NO SC.wav
PD Vacation NO SC.wav
PL Harmony NO SC.wav
SY Jammy NO SC.wav
Sub NO SC.wav
./KIT_4_Ab_100_BPM:
BA Dock.wav
Boom FX.wav
Cymbal Roll.wav
DRY
FX.wav
KIT_4_Ab_100_BPM_MIX.wav
KY Ibiza Piano.wav
Kick.wav
LD Dive.wav
LD Dreamscape.wav
MIDI
NO SC
Open Hat.wav
PD Amnesia.wav
PL Touch.wav
SY Chasing.wav
Shaker 2.wav
Shaker.wav
Snap.aif
Sub Drop.wav
Sub.wav
Thunder.wav
White Noise Down 2.wav
White Noise Down.wav
White Noise Up.wav
./KIT_4_Ab_100_BPM/DRY:
BA Dock DRY.wav
KY Ibiza Piano DRY.wav
LD Dive DRY.wav
LD Dreamscape DRY.wav
PD Amnesia DRY.wav
PL Touch DRY.wav
SY Chasing DRY.wav
./KIT_4_Ab_100_BPM/MIDI:
BA Dock.mid
KY Ibiza Piano.mid
LD Dive.mid
LD Dreamscape.mid
PD Amnesia.mid
PL Touch.mid
SY Chasing.mid
./KIT_4_Ab_100_BPM/NO SC:
BA Dock NO SC.wav
KY Ibiza Piano NO SC.wav
LD Dive NO SC.wav
LD Dreamscape NO SC.wav
PD Amnesia NO SC.wav
PL Touch NO SC.wav
SY Chasing NO SC.wav
Sub NO SC.wav
./KIT_5_Bb_100_BPM:
BA Scuba.wav
Boom FX.wav
Closed Hat.wav
Cymbal Roll.wav
DRY
FX.wav
KIT_5_Bb_100_BPM_MIX.wav
KY Cruise.wav
Kick.wav
LD Colors.wav
MIDI
NO SC
PD Lowtide.wav
PL Tropic.wav
SY Orchid.wav
Shaker 2.wav
Shaker.wav
Snap.wav
Sub Drop.wav
Sub.wav
Tambourine.wav
White Noise Down.wav
White Noise Up.wav
./KIT_5_Bb_100_BPM/DRY:
BA Scuba DRY.wav
KY Cruise DRY.wav
LD Colors DRY.wav
PD Lowtide DRY.wav
PL Tropic DRY.wav
SY Orchid DRY.wav
./KIT_5_Bb_100_BPM/MIDI:
BA Scuba.mid
KY Cruise.mid
LD Colors.mid
PD Lowtide.mid
PL Tropic.mid
SY Orchid.mid
./KIT_5_Bb_100_BPM/NO SC:
BA Scuba NO SC.wav
KY Cruise NO SC.wav
LD Colors NO SC.wav
PD Lowtide NO SC.wav
PL Tropic NO SC.wav
SY Orchid NO SC.wav
Sub NO SC.wav
./KIT_6_Bb_100_BPM:
BA Juna.wav
Boom FX.wav
Clap.wav
Closed Hat.wav
DRY
FX.wav
KIT_6_Bb_100_BPM_MIX.wav
KY Seashell.wav
Kick.wav
LD Bamboo.wav
MIDI
NO SC
PD Summer Love.wav
PL Coati.wav
SY Deep Love.wav
Shaker.wav
Snare.wav
Sub Drop.wav
Sub.wav
Tambourine.wav
White Noise Down.wav
White Noise Up.wav
Windchimes.wav
./KIT_6_Bb_100_BPM/DRY:
BA Juna DRY.wav
KY Seashell DRY.wav
LD Bamboo DRY.wav
PD Summer Love DRY.wav
PL Coati DRY.wav
SY Deep Love DRY.wav
./KIT_6_Bb_100_BPM/MIDI:
BA Juna.mid
KY Seashell.mid
LD Bamboo.mid
PD Summer Love.mid
PL Coati.mid
SY Deep Love.mid
./KIT_6_Bb_100_BPM/NO SC:
BA Juna NO SC.wav
KY Seashell NO SC.wav
LD Bamboo NO SC.wav
PD Summer Love NO SC.wav
PL Coati NO SC.wav
SY Deep Love NO SC.wav
Sub NO SC.wav
./KIT_7_Bb_100_BPM:
BA Pulse.wav
Boom FX.wav
Closed Hat.wav
Cymbal Roll.wav
DRY
FX.wav
KIT_7_Bb_100_BPM_MIX.wav
KY Pelican.wav
Kick.wav
LD Exhale.wav
MIDI
NO SC
PD Tide.wav
PL Deep Sky.wav
SY Crush.wav
Shaker.wav
Snap.wav
Sub Drop.wav
Sub.wav
Tambourine.wav
White Noise Down 2.wav
White Noise Down.wav
White Noise Up.wav
./KIT_7_Bb_100_BPM/DRY:
BA Pulse DRY.wav
KY Pelican DRY.wav
LD Exhale DRY.wav
PD Tide DRY.wav
PL Deep Sky DRY.wav
SY Crush DRY.wav
./KIT_7_Bb_100_BPM/MIDI:
BA Pulse.mid
KY Pelican.mid
LD Exhale.mid
PD Tide.mid
PL Deep Sky.mid
SY Crush.mid
./KIT_7_Bb_100_BPM/NO SC:
BA Pulse NO SC.wav
KY Pelican NO SC.wav
LD Exhale NO SC.wav
PD Tide NO SC.wav
PL Deep Sky NO SC.wav
SY Crush NO SC.wav
Sub NO SC.wav
./KIT_8_C#_100_BPM:
BA Treat.wav
Boom FX.wav
Clap.wav
Closed Hat.wav
DRY
FX.wav
KIT_8_C#_100_BPM_MIX.wav
KY Pier.wav
Kick.wav
LD Skinnydip.wav
MIDI
NO SC
Open Hat.wav
PD Delicious.wav
PL Umbrella.wav
SY Frisbee.wav
Shaker.wav
Snare.wav
Sub Drop.wav
Sub.wav
Tambourine.wav
Water.wav
White Noise Down.wav
White Noise Up.wav
./KIT_8_C#_100_BPM/DRY:
BA Treat DRY.wav
KY Pier DRY.wav
LD Skinnydip DRY.wav
PD Delicious DRY.wav
PL Umbrella DRY.wav
SY Frisbee DRY.wav
./KIT_8_C#_100_BPM/MIDI:
BA Treat.mid
KY Pier.mid
LD Skinnydip.mid
PD Delicious.mid
PL Umbrella.mid
SY Frisbee.mid
./KIT_8_C#_100_BPM/NO SC:
BA Treat NO SC.wav
KY Pier NO SC.wav
LD Skinnydip NO SC.wav
PD Delicious NO SC.wav
PL Umbrella NO SC.wav
SY Frisbee NO SC.wav
Sub NO SC.wav
./KIT_9_C#_100_BPM:
BA Port.wav
Boom FX.wav
Closed Hat.wav
Cymbal Roll.wav
DRY
FX.wav
KIT_9_C#_100_BPM_MIX.wav
KY Savanna.wav
Kick.wav
LD Rebirth.wav
MIDI
NO SC
Open Hat.wav
PD Rainforest.wav
PL Thriller.wav
SY Sunchill.wav
Shaker.wav
Snap.wav
Snare.wav
Sub Drop.wav
Sub.wav
Tambourine.wav
Thunder.wav
White Noise Down 2.wav
White Noise Down.wav
White Noise Up.wav
./KIT_9_C#_100_BPM/DRY:
BA Port DRY.wav
KY Savanna DRY.wav
LD Rebirth DRY.wav
PD Rainforest DRY.wav
PL Thriller DRY.wav
SY Sunchill DRY.wav
./KIT_9_C#_100_BPM/MIDI:
BA Port.mid
KY Savanna.mid
LD Rebirth.mid
PD Rainforest.mid
PL Thriller.mid
SY Sunchill.mid
./KIT_9_C#_100_BPM/NO SC:
BA Port NO SC.wav
KY Savanna NO SC.wav
LD Rebirth NO SC.wav
PD Rainforest NO SC.wav
PL Thriller NO SC.wav
SY Sunchill NO SC.wav
Sub NO SC.wav
./Xfer Serum Presets:
Basses
Keys
Leads
Pads
Plucks
Synths
./Xfer Serum Presets/Basses:
BA Atlantis.fxp
BA Cashew.fxp
BA Classic.fxp
BA Coral.fxp
BA Cove.fxp
BA Crab.fxp
BA Craft.fxp
BA Daylight.fxp
BA Divinity.fxp
BA Dock.fxp
BA Dream.fxp
BA Drive.fxp
BA Dune.fxp
BA Genesis.fxp
BA Gravity.fxp
BA Juna.fxp
BA Legacy.fxp
BA Lucid.fxp
BA Memoria.fxp
BA Memories.fxp
BA Momentum.fxp
BA Motion.fxp
BA Move.fxp
BA Nova.fxp
BA Overtones.fxp
BA Oxygen.fxp
BA Paddleboat.fxp
BA Polar.fxp
BA Port.fxp
BA Pulse.fxp
BA Reborn.fxp
BA Reef.fxp
BA Scuba.fxp
BA Simmer.fxp
BA Snorkel.fxp
BA Stay.fxp
BA Synergy.fxp
BA Tasty.fxp
BA Tomorrow.fxp
BA Treat.fxp
BA Vibes.fxp
BA Vibrant.fxp
./Xfer Serum Presets/Keys:
KY 2AM.fxp
KY Afterlife.fxp
KY Atlantis.fxp
KY Barnacle.fxp
KY Bay.fxp
KY Bikini.fxp
KY Craze.fxp
KY Cruise.fxp
KY Ibiza Piano.fxp
KY Immerse.fxp
KY Invisible.fxp
KY Lagoon.fxp
KY Legacy.fxp
KY Love Me.fxp
KY Memory.fxp
KY Neonlit.fxp
KY Nova.fxp
KY Pelican.fxp
KY Pier.fxp
KY Popsicle.fxp
KY Savanna.fxp
KY Searching.fxp
KY Seashell.fxp
KY Seashore.fxp
KY Signature.fxp
KY Stash.fxp
KY Striped Moon.fxp
KY Sublime.fxp
KY Sugar.fxp
KY Sun Chill.fxp
KY Sunkissed.fxp
KY Sunrise.fxp
KY Vibes.fxp
./Xfer Serum Presets/Leads:
LD Afterlife.fxp
LD Aloha.fxp
LD Bamboo.fxp
LD Barnacle.fxp
LD Bay.fxp
LD Birthday.fxp
LD Cacao.fxp
LD Clam.fxp
LD Classic.fxp
LD Closer.fxp
LD Colors.fxp
LD Daybreak.fxp
LD Discover.fxp
LD Dive.fxp
LD Dream.fxp
LD Dreamscape.fxp
LD Eargasm.fxp
LD Earth.fxp
LD Enigma.fxp
LD Exhale.fxp
LD Fever.fxp
LD Firefiles.fxp
LD Flip.fxp
LD Genesis.fxp
LD Gravity.fxp
LD Gull.fxp
LD Immerse.fxp
LD Life.fxp
LD Liquid.fxp
LD Lost Souls.fxp
LD Lovesick.fxp
LD Midnight.fxp
LD Momentum.fxp
LD Moonrise.fxp
LD Move.fxp
LD Mystery.fxp
LD Nami.fxp
LD Neonlit.fxp
LD Orion.fxp
LD Pluto.fxp
LD Primetime.fxp
LD Rebirth.fxp
LD Runaway.fxp
LD Running.fxp
LD Sand Dollar.fxp
LD Sandbar.fxp
LD Sea Star.fxp
LD Shelter.fxp
LD Show.fxp
LD Skinnydip.fxp
LD Spectrum.fxp
LD Sublime.fxp
LD Summer.fxp
LD Suntan.fxp
LD Surf.fxp
LD Surfaces.fxp
LD Sweet Rain.fxp
LD Taro.fxp
LD Tasty.fxp
LD Timeless.fxp
LD Tribute.fxp
LD Vibrant.fxp
LD Youth.fxp
./Xfer Serum Presets/Pads:
PD Amnesia.fxp
PD Atlantis.fxp
PD Avocado.fxp
PD Blindside.fxp
PD Coast.fxp
PD Courage.fxp
PD Craze.fxp
PD Delicious.fxp
PD Enigma.fxp
PD Family.fxp
PD Feedback.fxp
PD Feel It.fxp
PD Fins.fxp
PD Flame.fxp
PD For You.fxp
PD Gravity.fxp
PD Ibiza.fxp
PD Invisible.fxp
PD Kayak.fxp
PD Kinetic.fxp
PD Latch.fxp
PD Lowtide.fxp
PD Madness.fxp
PD Memoria.fxp
PD Memories.fxp
PD Mint.fxp
PD Moment.fxp
PD Mood.fxp
PD Neonlit.fxp
PD Overtones.fxp
PD Paradise.fxp
PD Rainforest.fxp
PD Riddles.fxp
PD Skyline.fxp
PD Soul.fxp
PD Stargazer.fxp
PD Striped Moon.fxp
PD Summer Love.fxp
PD Textures.fxp
PD Tide.fxp
PD Timeless.fxp
PD Timezone.fxp
PD Vacation.fxp
PD Zone.fxp
./Xfer Serum Presets/Plucks:
PL Afterlife.fxp
PL Bikini.fxp
PL Breathe.fxp
PL Clam.fxp
PL Coast.fxp
PL Coati.fxp
PL Craft.fxp
PL Craze.fxp
PL Currents.fxp
PL Daybreak.fxp
PL Daydream.fxp
PL Deep Sky.fxp
PL Desire.fxp
PL Discover.fxp
PL Dream.fxp
PL Dune.fxp
PL Fins.fxp
PL Flame.fxp
PL Flip.fxp
PL Flutter.fxp
PL Gull.fxp
PL Harmony.fxp
PL Ibiza.fxp
PL Invisible.fxp
PL Kinetic.fxp
PL Lucid.fxp
PL Memoria.fxp
PL Memories.fxp
PL Memory.fxp
PL Meteora.fxp
PL Midnight.fxp
PL Mint.fxp
PL Moon.fxp
PL One Step.fxp
PL Palm Tree.fxp
PL Polar.fxp
PL Primetime.fxp
PL Reaction.fxp
PL Reborn.fxp
PL Ride.fxp
PL Seashore.fxp
PL Signature.fxp
PL Snorkel.fxp
PL Starfish.fxp
PL Stargazer.fxp
PL Stash.fxp
PL Stay.fxp
PL Sugar.fxp
PL Surfaces.fxp
PL Sweet Rain.fxp
PL Synergy.fxp
PL Tasty.fxp
PL Technicolor.fxp
PL Thriller.fxp
PL Timezone.fxp
PL Touch.fxp
PL Tropic.fxp
PL Umbrella.fxp
PL Yacht.fxp
PL Zone.fxp
./Xfer Serum Presets/Synths:
SY Awe.fxp
SY Blindside.fxp
SY Cashew.fxp
SY Castaway.fxp
SY Chasing.fxp
SY Closer.fxp
SY Coast.fxp
SY Courage.fxp
SY Crush.fxp
SY Daylight.fxp
SY Deep Love.fxp
SY Desire.fxp
SY Divinity.fxp
SY Eargasm.fxp
SY Energy.fxp
SY Family.fxp
SY Feel It.fxp
SY For You.fxp
SY Frisbee.fxp
SY Guitar.fxp
SY Island.fxp
SY Jammy.fxp
SY Kayak.fxp
SY Latch.fxp
SY Legacy.fxp
SY Life.fxp
SY Liquid.fxp
SY Lost Souls.fxp
SY Madness.fxp
SY Mood.fxp
SY Mystery.fxp
SY Neonlit.fxp
SY Nova.fxp
SY One Step.fxp
SY Optica.fxp
SY Orchid.fxp
SY Organ.fxp
SY Oxygen.fxp
SY Palm Tree.fxp
SY Paradise.fxp
SY Reef.fxp
SY Riddles.fxp
SY Searching.fxp
SY Seashore.fxp
SY Shell.fxp
SY Shine.fxp
SY Smooth.fxp
SY Spectrum.fxp
SY Starfish.fxp
SY Sublime.fxp
SY Sunchill.fxp
SY Sunrise.fxp
SY Sunset.fxp
SY Sweet Escape.fxp
SY Technicolor.fxp
SY Timeless.fxp
SY Tribute.fxp
SY Youth.fxp